Dual Eligible Demonstrations: The Beneficiary Perspective
John, age 41, Ohio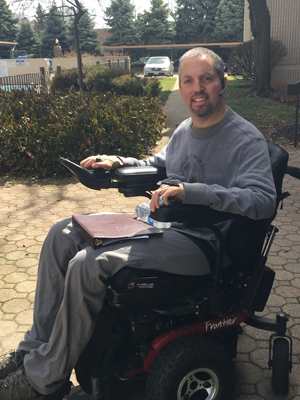 At the age of 19, John, a college freshman, lost his balance when he jumped into a local pond on a hot summer day. The accident left him with C5 quadriplegia. After his accident John was fortunate to find Creative Living, a residential community for people with high-level physical disabilities near his university. Living there allowed John to finish his undergraduate degree. He now lives independently in a condominium in the same neighborhood as his mother and two sisters and has a close relationship with his twin nephews. He likes to be outside as much as possible and vacations at state parks. Currently, he serves on the Board of Trustees for Creative Living. He volunteers in other capacities, helping organizations with IT issues and advocating on behalf of others with disabilities.
Overall, John describes himself as "fairly healthy" but must be constantly vigilant to avoid skin breakdown and other complications related to his disability. He relies on home health aides for about 12 hours each day and has nursing services several times a week. He uses a power wheelchair, a hospital bed, ceiling lift, and shower chair. His condominium has been modified with ramps and widened doors, and he has a minivan modified to accommodate his wheelchair.
"I hated the idea of being transferred. I had a wonderful support team and it seemed ominous and very disruptive… i worried about who would get me up in the morning."
John has had Medicaid and Medicare since his accident. The demonstration is his first experience with managed care. When he learned about the program from others in the disability community, he was anxious about transitioning to a new delivery system.
John chose his health plan and was distressed because he could not keep all of his providers. Some did not participate with both or either of the health plans in his area, making it difficult to select a plan.
Provider networks are improving, but John thinks that what is happening now should have happened a year earlier. He appreciates the program policy that will reimburse out-of-network providers who continue to see beneficiaries during a grace period but says that in practice, "it's less than advertised" because some doctors are unfamiliar with the program and therefore reluctant to schedule appointments with demonstration enrollees.
Prior to the demonstration, John had a longstanding relationship with his case manager but he had to switch because his new health plan uses a different case management organization. When no one contacted him, John called the health plan to request a visit. He liked the new case manager but was distressed that she knew nothing about him. His understanding is that his previous case management records had been sent to the health plan but subsequently lost. Later, an assessor from the health plan visited him. There were no service changes in his new care plan except for a small number of more flexible hours that he can use to juggle his aides' schedules when necessary.
"How do you choose between a neurologist you've had for 20 years and a DME provider who customized your seat you use every day?"
After the transition to the demonstration, John was able to keep his personal care team, but he says it required a "Herculean effort." All but one of his six personal care aides was an independent provider, and none had any knowledge about the impending program change. Under the demonstration, independent providers have to be part of the health plan network and must bill the plan for claims. Only by inquiring as if he were an independent provider himself, was John able to obtain guidance about how to complete the required paperwork. After extensive consultation with the health plan, John made a template for his independent providers and helped them all apply to the plan's network. Another early challenge was that even after they joined the plan network, his providers were not paid for almost two months. They finally received checks just after he called attention to the situation publicly.
Delayed payments had practical consequences for John in another way when a battery for his ceiling lift had to be replaced. He called his new case manager and learned that he now needs prior authorization for a battery, but the case manager was not successful initially at getting the prior authorization from the plan. John is able to transfer on his own on occasion, but when he must do this for a prolonged period of time, both he and his aides are at risk of injury. The repairman who he knew and contacted had a contract with the health plan, but because the repair company had not been paid for prior work, they would not change the battery without prior authorization. Finally, after several weeks, John called the customer relations representative at the plan; he received authorization the next day. John said that this story shows how much the plan's the customer relations function has improved but also illustrates a particular challenge associated with his change in coverage.
The option for self-directed care in Ohio's demonstration is a new feature that is particularly appealing to John, but he had to take the initiative to find out about it, and at this point, after talking with his case manager and another representative from the health plan, he concluded that "essentially they are still building the [self-direction] model." A major outstanding issue is whether his aides would be paid the same wage under self-direction as under the current program.
John sees potential in a system that would provide a single point of contact to coordinate all of his Medicaid and Medicare services, but he opted out of the Medicare portion of the demonstration before it became effective because his experience with his health plan so far had been challenging. Also, since his current doctor accepts Medicare but not Medicaid, he can only continue to see his doctor if he stays with traditional Medicare.