Although federal legislation intends to provide no-cost rape kits to all survivors of sexual violence, some survivors still face out-of-pocket charges for minimum standard rape kit services as well as other medical care that takes place following a sexual assault. This brief examines the policies that impact coverage of health care services for survivors of sexual assault and identifies gaps in those programs and coverage for their care, particularly for women with private health insurance.
This analysis highlights state-level data on the status of the Title X family planning program on the eve of the implementation of the new Biden Administration regulations for the program.

This brief explains key elements of the Biden Administration's proposed regulations for the Title X federal family planning program that would replace the Trump Administration's rules, which prohibited abortion referrals and co-located abortion services.

This issue brief presented in a narrative story map reviews the impact the Trump Administration regulations have had on the Title X network and discusses the likely impact and limitations of the Biden Administration's potential actions.
In this brief, we highlight how experiences during the COVID-19 pandemic related to work, childcare, and caregiving differ by gender and among different subpopulations of women.

This brief presents findings from the 2020 KFF Women's Health Survey on women's use of health care services, costs, and experiences accessing health care.

This brief provides new data from the 2020 KFF Women's Health Survey on how workplace benefits and caring for children's health care needs differ by gender and among different subpopulations of women.

In this brief, we document how experiences accessing health care during the COVID-19 pandemic have differed by gender, age, race/ethnicity, insurance coverage, and income and what this could mean moving forward.

This brief presents new data from the KFF Women's Health Survey on coverage and use of reproductive and sexual health services among different subgroups of women ages 18 to 49.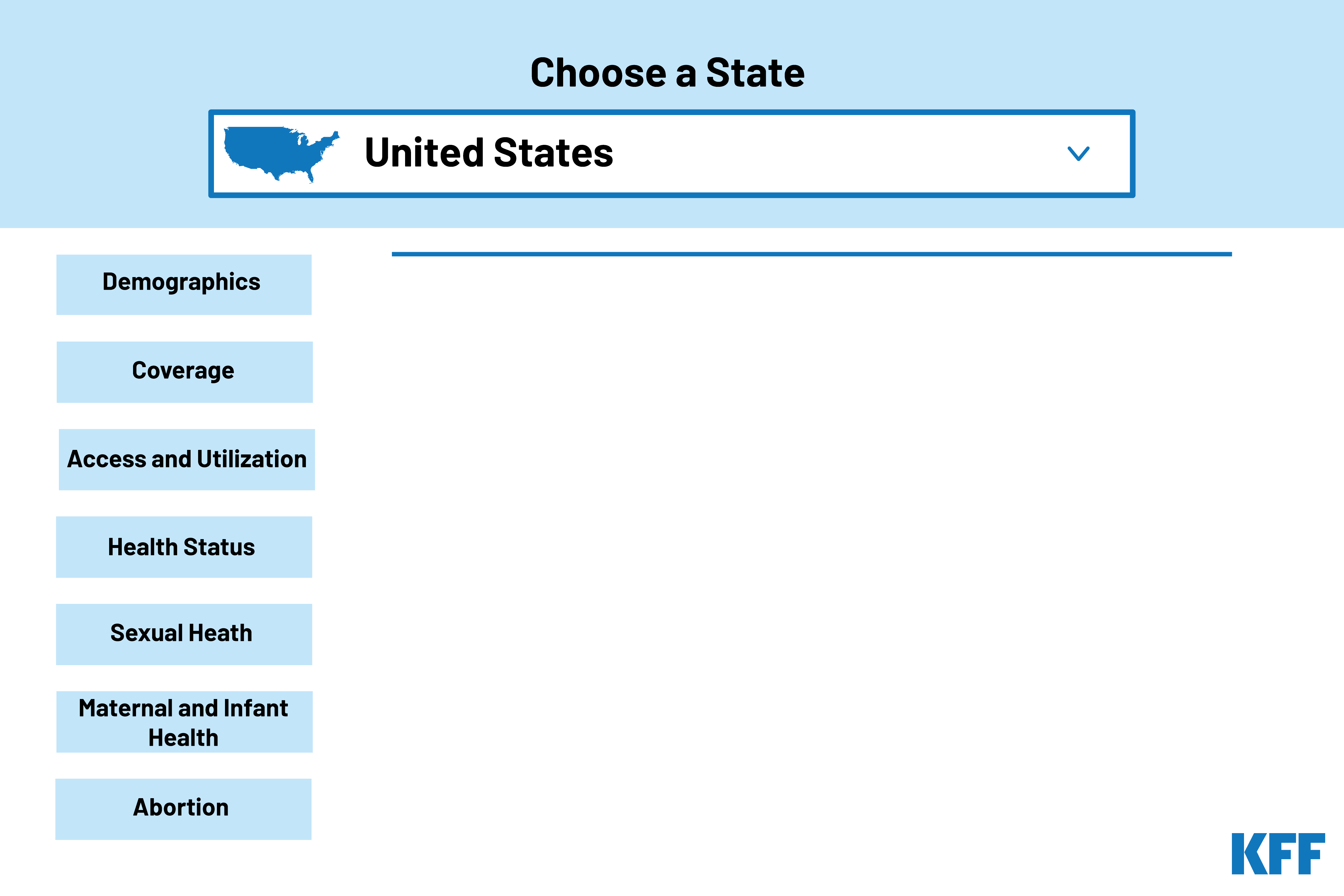 Explore the latest national and state-specific data and policies on women's health. Topics include health status, insurance and Medicaid coverage, use of preventive services, sexual health, maternal and infant health, and abortion policies. Many indicators provide state-level information for women of different racial and ethnic groups.
Read More
insurance coverage

This factsheet reviews major sources of coverage for women residing in the U.S., discusses the impact of the ACA on women's coverage, and the coverage challenges that many women continue to face.

abortion

Reviews federal & state policies on coverage for abortion and estimates the availability of abortion coverage for women enrolled in private plans, ACA Marketplace plans, and Medicaid.

Women's Health Policy

This data note presents key data points describing the current state of the Medicaid program as it affects women.

State health facts

Information on women's health status, utilization of services, health insurance coverage, family planning and childbirth, and abortion statistics and policies.

interactive

This interactive tool provides state profiles on women's health and access to care. Browse the map and click on a state to view a women's health data dashboard in each of four categories.
Browse the Latest from KFF