This Week in Coronavirus: August 14 to August 20
KFF Aug 21, 2020
Every Friday we recap the past week in the coronavirus pandemic from our tracking, policy analysis, polling, and journalism.
With the Democratic National Convention held this week and the Republican National Convention scheduled for next, the 2020 general election season is officially kicking off and brings an even greater focus on the country's coronavirus pandemic response as a campaign issue. KFF's survey research team wrote a Policy Watch post analyzing voters' increasingly negative opinions of President Trump's handling of the pandemic, with the caveat that the President continues to garner strong support among his base of Republican voters – even those living in areas disproportionately impacted by the virus.
KFF traditionally produces content on where the candidates stand on the key health policy issues facing the country. This election year is no different, but the global pandemic has overshadowed other key issues that may have had more attention. The new slideshow, Health Care and the 2020 Presidential Election, compares President Trump's record and former Vice President Joe Biden's proposals on several issues, including the slide below on the COVID-19 response.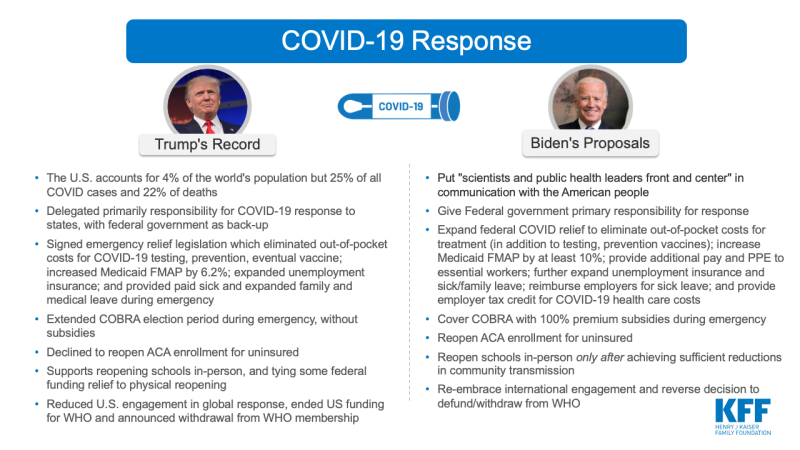 Here are the latest coronavirus stats from KFF's tracking resources:
Global Cases and Deaths: Total cases worldwide surpassed 22 million this week – with an increase of approximately 1.8 million new confirmed cases in the past seven days. There were also approximately 43,500 new confirmed deaths worldwide, bringing the total to nearly 794,000 confirmed deaths.
U.S. Cases and Deaths: Total confirmed cases in the U.S. reached nearly 5.6 million this week. There was an approximate increase of 325,000 confirmed cases between August 14 and August 20. Over 7,000 confirmed deaths in the past week brought the total in the United States to over 174,000.
Race/Ethnicity Data: As of August 17, Black individuals made up a higher share of cases/deaths compared to their share of the population in 31 of 49 states reporting cases and 32 of 46 states reporting deaths. In 6 states (MI, MO, IL, WI, KS, and ME) the share of COVID-19 related deaths among Black people was at least two times higher than their share of the total population. Hispanic individuals made up a higher share of cases compared to their share of the total population in 36 of 46 states reporting cases. In 5 states (NE, WI, MN, NH and SD), Hispanic peoples' share of cases was more than 3 times their share of the population. COVID-19 continues to have a sharp, disproportionate impact on American Indian/Alaska Native as well as Asian people in some states.
Data Reporting Status: 47 states are reporting COVID-19 data in long-term care facilities, 4 states are not reporting
Long-term care facilities with known cases: 15,566 (across 45 states)
Cases in long-term care facilities: 391,397 (across 44 states)
Deaths in long-term care facilities: 70,649 (in 45 states)
Long-term care facilities as a share of total state cases: 8% (across 44 states)
Long-term care facility deaths as a share of total state deaths: 43% (across 45 states)
Face Mask Requirements
– Enhanced requirements: CT, GA, MS
• Social Distancing Measures
– Extended: GA, HI, FL, MS, NV
– Paused: No states
– Rolled back: NY
– New restrictions: IL, OR
The latest KFF COVID-19 resources:
The latest KHN COVID-19 stories: