PEPFAR Policy Resource Hub
This hub brings together key U.S. President's Emergency Plan for AIDS Relief (PEPFAR) policy resources – from KFF, the U.S. government, and others – that can be used to inform policy discussions and research. More items will be added to the hub over time.
Global Health Policy
This year, Congress will consider reauthorization of the President's Emergency Plan for AIDS Relief (PEPFAR). This Policy Watch provides fast facts about the program and top issues related to its authorization and funding.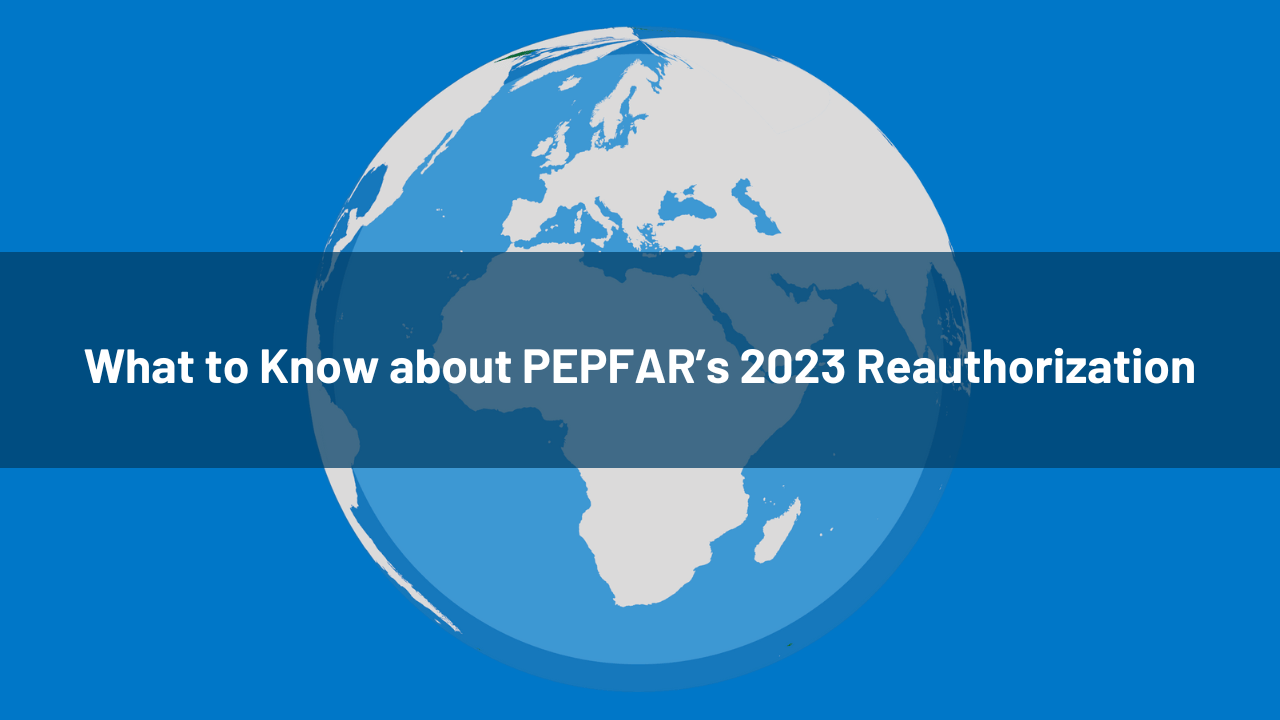 This report tracks funding levels of the donor governments that collectively provide the bulk of international assistance for HIV, showing that while such funding for HIV increased between 2021 and 2022, this was primarily due to the timing of payments from the U.S. government and not actual increases in commitments.
Kff pepfar resources – the essentials
This brief explores key issues and poses questions regarding PEPFAR's future, providing a roadmap for the major decisions ahead for the program. It identifies eight key, interrelated issues facing the administration, Congress, and other PEPFAR stakeholders.

This brief identifies time-bound PEPFAR authorities and also provides a detailed side-by-side comparison of PEPFAR's authorizing legislation over time.

This dashboard monitors progress being made to address the HIV/AIDS epidemic in countries where PEPFAR operates. It includes data for 54 countries and tracks progress against 6 different indicators.

The U.S. government is the largest donor to global health in the world. This fact sheet breaks down the U.S. global health budget by program area: HIV/PEPFAR; tuberculosis; malaria/the President's Malaria Initiative; the Global Fund to Fight AIDS, Tuberculosis, and Malaria; maternal & child health; nutrition; family planning & reproductive health; global health security; and neglected tropical diseases.

This fact sheet looks at the history, funding, and future outlook of PEPFAR, the U.S. government's major global initiative to combat HIV/AIDS.
Official PEPFAR Policy Documents – Legislation, Strategies & Guidance
Includes PEPFAR's original authorizing legislation, as well as each subsequent reauthorization legislation.

Includes all of PEPFAR's multi-year strategies, as well as related documents.

The COP/ROP guidance underpins the development of annual plans by both bilateral and regional PEPFAR programs.

Country or Regional Operating Plans (COP or ROP) serve as annual strategic plans for U.S. HIV/AIDS efforts in host countries and are unpinned by the COP/ROP guidance.

Routinely-updated technical guidance developed by PEPFAR that addresses a variety of COVID-19-related issues facing its field programs.
Official PEPFAR Data Resources
PEPFAR's database that includes numerous indicators related to PEPFAR's activities and the people they serve, as well as planned funding, expenditures, and other data.

Reference guide to PEPFAR's Monitoring, Evaluation, and Reporting (MER) indicators. Data can be found on PEPFAR's Panorama Spotlight.

PEPFAR-funded nationally representative surveys that capture the state of HIV epidemics in PEPFAR countries.
Official PEPFAR Reports to Congress & Evaluations
Annual reports to the U.S. Congress on PEPFAR's activities, as required by the program's legislation.

Annual reports to the U.S. Congress focused on PEFPAR's HIV treatment efforts.

These congressionally-mandated evaluations of PEPFAR examine various periods of the program's implementation.
PEPFAR Policy Resources from other organizations
This database from amfAR includes planned funding taken directly from publicly released operational plans, including planned funding and expenditures by program area, country, and organization.

This database from amfAR serves as a tool for analyzing PEPFAR's MER data.

Georgetown University's HIV Policy Lab online platform monitors HIV-related laws and policies adopted by countries around the world, including PEPFAR countries.