Today's Topics In Health Disparities: Is the Health Care System Ready for Health Reform?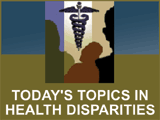 On Wednesday, November 4, at 1 p.m. ET, this Today's Topics In Health Disparities live webcast examined how ready the health care system is for the influx of newly covered individuals that health reform aims to deliver. In the health care proposals being considered by Congress, changes to Medicaid alone could mean as many as 15 million people would become newly eligible for the program and many live in medically underserved areas. The program will address how health reform could improve or exacerbate the existing issues that people living in underserved areas, including many people of color, face in getting access to needed health care. The panelists also discussed provisions in the bills that address the need for increasing the health care workforce and maintaining the safety net, as well as potential gaps in the legislation, and the possible impact on racial and ethnic health disparities.
Cara James, Ph.D., senior policy analyst on race, ethnicity and health care for the Kaiser Family Foundation moderated the discussion with:
Louis Sullivan, MD, president emeritus, Morehouse School of Medicine and former secretary of U.S. Department of Health and Human Services Bio (.pdf)
Alan Weil, JD, MPP, executive director, National Academy for State Health Policy and president, Center for Health Policy Development Bio (.pdf)
Candice Chen, MD MPH, assistant professor of Pediatrics, Department of Health Policy, George Washington University Bio (.pdf)
View Webcast
Please note: the video is no longer available. If you have an urgent need for the video, you may contact us (choose "problem with video" on the form) and we will try to locate the video. Include the URL for this page in your message to us.
For KFF reference:/health_cast/player_kff.cfm?id=139
Today's Topics In Health Disparities is a series of live, interactive webcasts devoted to addressing a range of issues relating to health and health care disparities in the United States. Each discussion features a panel of experts tackling current issues in health disparities and answering questions from webcast viewers.