This Week in Coronavirus: November 6 to November 12

Published:
Here's our recap of the past week in the coronavirus pandemic from our tracking, policy analysis, polling, and journalism.
This week, the U.S. posted its two highest daily totals for new cases since the pandemic began, adding over 662,000 cases and about 6,300 deaths.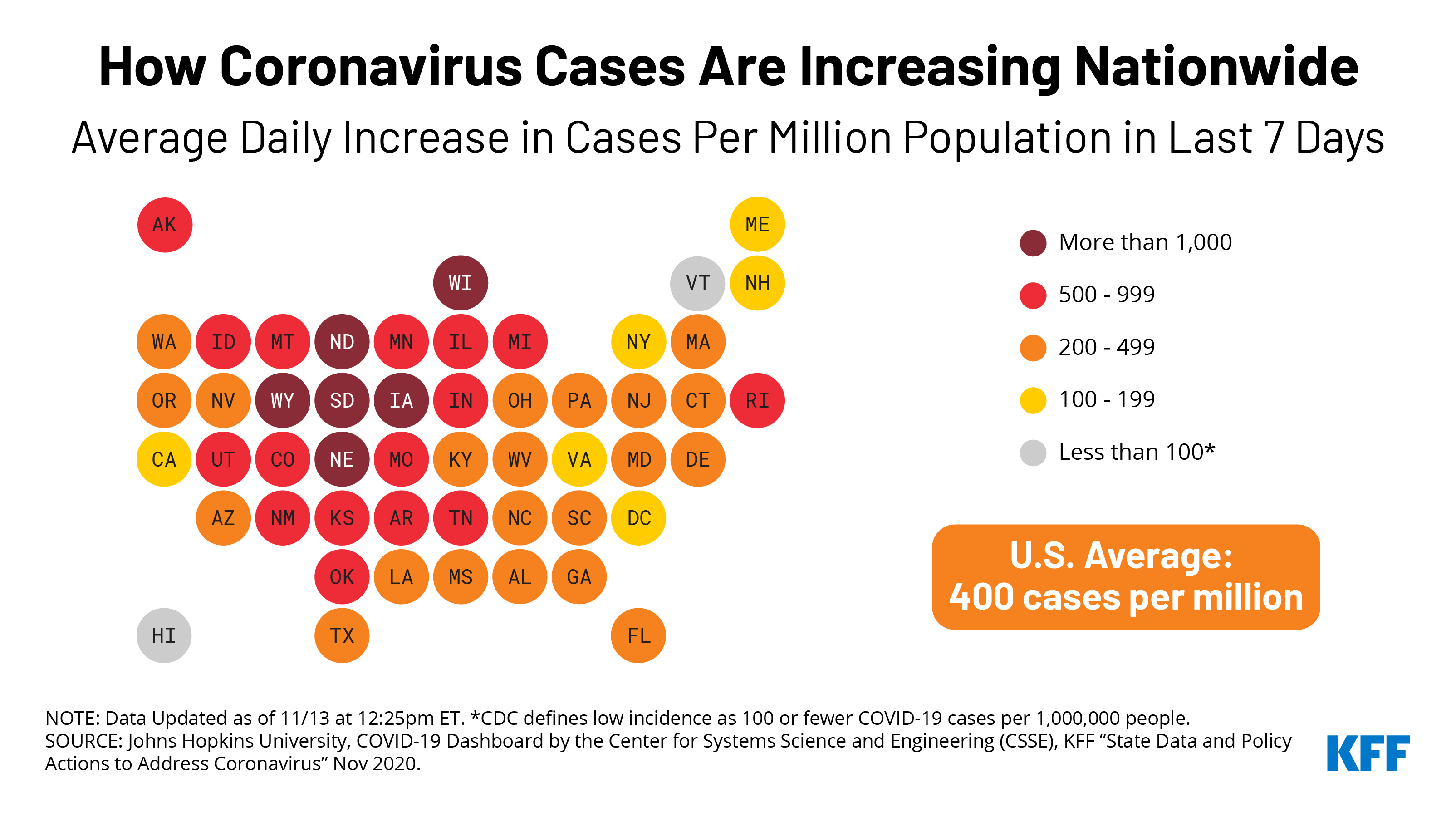 As every state except Hawaii experienced a spike in coronavirus cases this week there is promising news about a potentially very effective vaccine. However, the upturn in U.S. cases is causing concern that our health care system is once again stretched beyond capacity.
A KFF analysis examines the composition of the health care workforce and how the risks and the impact of the pandemic on this workforce vary across racial/ethnic groups. While people of color only account for 40% of health care workers, they account for the majority of COVID-19 cases and deaths among this group based on available data.
Here are the latest coronavirus stats from KFF's tracking resources:
Global Cases and Deaths: Total cases worldwide reached 52.7 million this week – with an increase of approximately 4 million new confirmed cases in the past seven days. There were over 59,000 new confirmed deaths worldwide and the total for confirmed deaths is nearing 1.3 million.
U.S. Cases and Deaths: Total confirmed cases in the U.S. passed 10.5 million this week. There was an increase of almost 1 million confirmed cases between November 5 and November 12. Approximately 7,000 confirmed deaths in the past week brought the total in the United States to  242,400.
Race/Ethnicity Data: Black individuals made up a higher share of cases/deaths compared to their share of the population in 37 of 50 states reporting cases and 32 of 48 states reporting deaths. In 6 states (ME, VT, NH, MN, RI, MI) the share of COVID-19 related deaths among Black people was at least two times higher than their share of the total population. Hispanic individuals made up a higher share of cases compared to their share of the total population in 43 of 46 states reporting cases. In 4 states (OR, NC, PA, and NH), Hispanic peoples' share of cases was more than 3 times their share of the population. COVID-19 continues to have a sharp, disproportionate impact on American Indian/Alaska Native as well as Asian people in some states.
State Social Distancing Actions (includes Washington D.C.) that went into effect this week:
Extensions: CO, CT, MN, MS, NM, RI, SC, UT, VT
New Restrictions: IL, IA, MD, MN, NE, NY, NC, OR, UT, VT
Rollbacks: HI, MA
Enhanced Face Mask Requirement: UT
The latest KFF COVID-19 resources:
The latest KHN COVID-19 stories: