Coronavirus Cases Surging Across the Country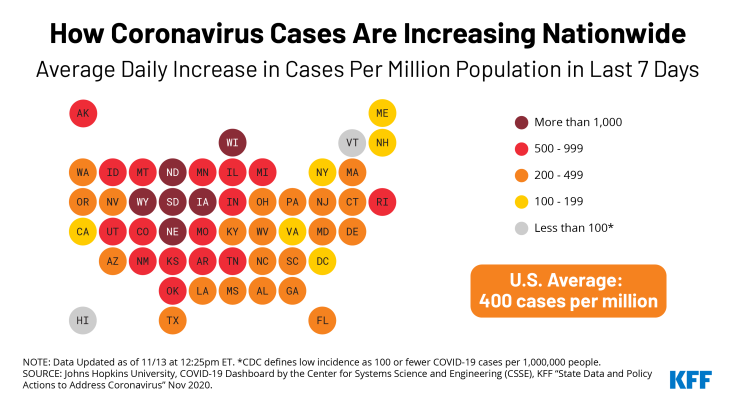 The total number of confirmed COVID-19 cases in the United States recently surpassed 10 million, and nationwide deaths are nearing 250,000. As we move into the holiday season, cases are rapidly growing across the country, putting pressure on health systems and providers. Currently, 49 states and D.C. are categorized as COVID-19 hotspots, Hawaii is the only exception (see our COVID-19 dashboard for more data and a detailed definition of hotspots). 
The chart shows daily new cases per million population in each state using a 7-day rolling average, which helps to account for fluctuations in reporting throughout each week.  
By this metric, six states – North Dakota, South Dakota, Iowa, Wyoming, Wisconsin, and Nebraska — had an average daily increase of more than 1,000 cases per million people in the past week, and 13 additional states saw an average of upwards of 500 new daily cases per million people. The alarming growth of COVID-19 cases in the Midwest and Mountain states, in particular, has led to urgent hospital capacity issues. Multiple hospitals in these states have reported being at full capacity, and COVID-19 hospitalizations nationwide have reached their highest level since the start of the pandemic. Looking ahead, rising cases combined with holiday gatherings and travel have the potential to exacerbate hospital capacity concerns around the country.   
Source