This Week in Coronavirus: February 5 to February 11

Published:
Here's our recap of the past week in the coronavirus pandemic from our tracking, policy analysis, polling, and journalism.
COVID-19 vaccine continues with signs of progress and also continuing challenges as reported by KHN. KHN also asked readers to share their experiences searching for vaccinations.
In his column, Drew Altman shows why vaccine hesitancy will naturally decrease as more and more people see their family members and friends vaccinated without adverse consequences. He writes, "As vaccine hesitancy diminishes, efforts can focus most on the groups most likely to be persistently vaccine resistant, including in the Black community and rural America."
Vaccine Monitor reports that nearly a third of the public wants to "wait and see" how COVID-19 vaccines work before getting one, examining how this group's views vary by party ID and race/ethnicity in ways that could influence effective messaging.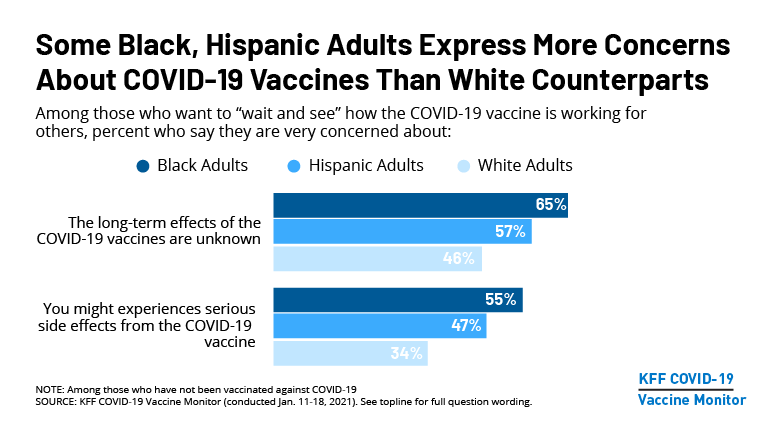 Earlier this week a report looked at the public's response to a series of open-ended questions aimed at better understanding people's concerns around receiving a COVID-19 vaccine — and the views of the messages and messengers that could affect their willingness to get one. It includes direct quotes from the more than 1,000 people interviewed. This and other COVID-19 Vaccine Monitor content is available via a dashboard.
A KFF analysis finds that most older adults have not yet been vaccinated against the potentially deadly virus in the states reporting this data, as vaccine supplies remain limited and most states have only recently begun to make people 65 and older eligible.
Meanwhile, a new map and tables show who is currently eligible to receive the COVID-19 vaccine in each state by the following categories:
Age,
People with High-Risk Medical Conditions,
People Living in Congregate Settings,
K-12 School Personnel,
Law Enforcement and Public Safety Personnel,
Correctional Facility Inmates and Staff,
Grocery and Food Service Workers,
and Transit Workers.
An updated KFF brief explores what's known about the pandemic's impact on people's mental health and substance use and its implications for Americans' well-being. Among the conclusions: young adults have been especially hard hit, more women than men are facing mental health challenges, people experiencing job or income losses are at higher risk for problems, essential workers face greater challenges than other workers, and communities of color are disproportionately affected.
With the Biden Administration announcing that vaccines will ship directly to community health centers, a Policy Watch post looks at issues they will need to confront in proposing to use federally qualified centers as key distribution points for the vaccine.
Here are the latest coronavirus stats from KFF's tracking resources:
Global Cases and Deaths: Total cases worldwide stand at nearly 108 million this week – with an increase of 2.9 million new confirmed cases in the past seven days. There were approximately 85,900 new confirmed deaths worldwide, bringing the total for confirmed deaths to nearly 2.4 million.
U.S. Cases and Deaths: Total confirmed cases in the U.S. approached 27.4 million this week. There was an increase of about 712,300 confirmed cases between Feb. 4 and Feb.11. Approximately 19,500 confirmed deaths in the past week brought the total in the United States to 475,400.
The latest KFF COVID-19 resources:
The latest KHN COVID-19 stories: