Amid Merger Talk, a Look at Health Insurers' Medicare Business
This was published as a Wall Street Journal Think Tank column on July 1, 2015.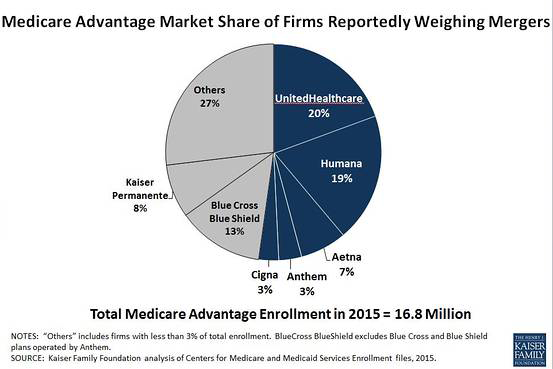 Discussion is growing about what rumored mergers between health insurance companies could mean for shareholders and the public. Initially, it was Humana exploring acquisitions by Cigna and Aetna. Then UnitedHealthcare approached Aetna. More recently, Aetna made a takeover proposal to Humana and Anthem announced a takeover bid for Cigna that seems to have been rejected.
When the Justice Department grapples with these mergers, it can be expected to take into account these companies' growing Medicare business.
More and more seniors are enrolling in private health plans for Medicare benefits, known as Medicare Advantage plans. And Medicare dollars–both payments from Medicare and premiums paid by enrollees–account for a large and rising share of revenues for many health insurers. For example, about 65% of Humana's revenues came from Medicare Advantage plans in 2014, up from 21% in 2003.
Medicare Advantage enrollment is already concentrated among a handful of large firms, and, as the chart above shows, they are many of the same firms that are engaged in merger-and-acquisition discussions. Together, Humana and UnitedHealth provide coverage for nearly 40% of all people enrolled in Medicare Advantage plans. Cigna and Aetna together cover an additional 10% of the Medicare Advantage population. In some states, enrollment is highly concentrated within a few firms. In 17 states, more than 90% of people in Medicare Advantage plans are covered by one of three firms. If one or more of these mergers between health insurers materializes, the market will be even more concentrated.
Some of these deals could have a greater effect than others on seniors and the Medicare Advantage market. If, for example, Cigna accepts a takeover offer from Anthem, Anthem's market share would increase from 17% to 24% in Miami/Dade, Fla. But if United Healthcare acquires Aetna, its Medicare Advantage market share would jump to 69% from 44% in New Jersey. If Cigna and Humana join forces, Cigna's share of the Medicare Advantage market would increase from 11% to 77% in Mississippi. And if Aetna takes over Humana, Aetna's share of the Medicare Advantage market would increase from 42% to 90% in Kansas. (Of course, regulators could insist that companies take steps to maintain more competitive markets.)
Insurers and their investors apparently see a potential upside to these mergers. For seniors, the outcome is less clear. On the one hand, with more market power plans could drive a harder bargain with providers and potentially exact lower prices. And the existence of fewer firms could make it easier for seniors to choose among Medicare Advantage plans in their area. Today, beneficiaries have, on average, a choice of 18 Medicare Advantage plans in their area. But less competition could lead to higher premiums (federal law limits the amount of premiums firms can use for administration, marketing, and profit), higher out-of-pocket costs for covered services, and narrower provider networks. One safety valve: If premiums go up too much, beneficiaries could return to traditional Medicare.
The market will sort out whether these acquisitions are good for insurers and their shareholders. The larger question for government to assess is whether a proposed merger is in the public interest.