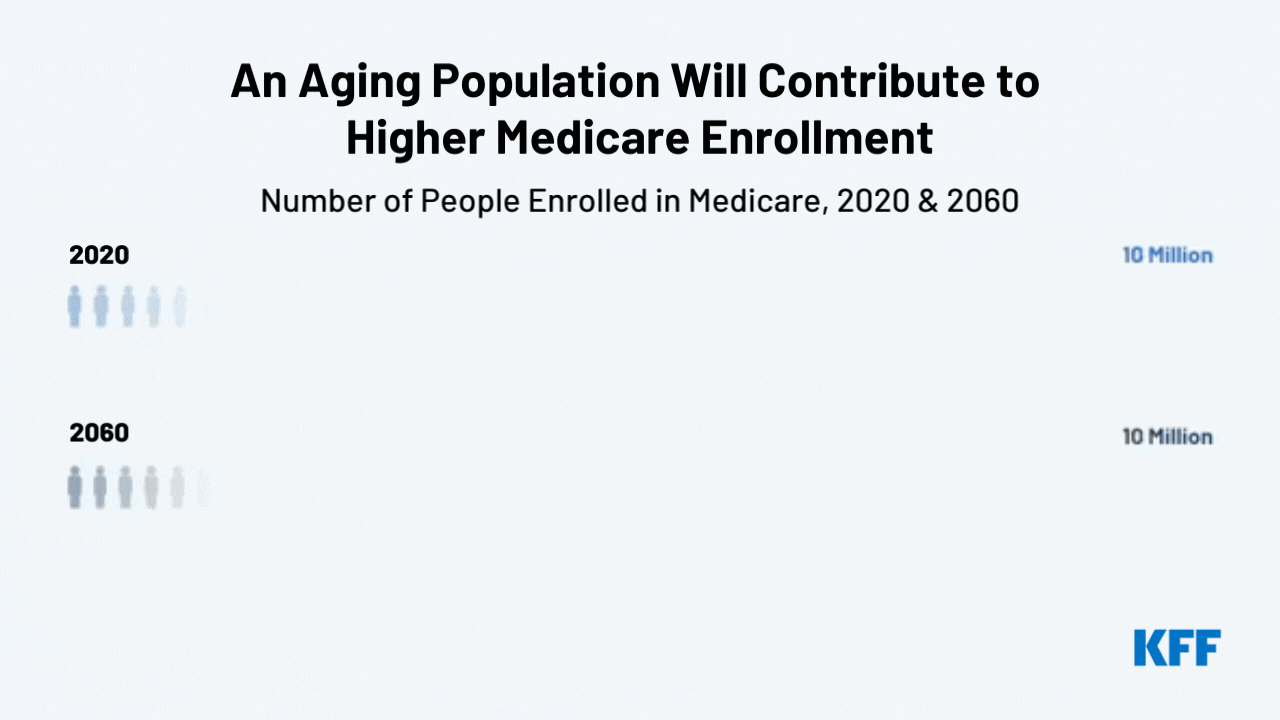 This interactive provides the facts on Medicare spending. Medicare, which serves 65 million people and accounts for 12 percent of the federal budget and 20 percent of national health spending, is at the heart of discussions about health expenditures and affordability.
Explore data on enrollment growth, Medicare spending trends overall and per person, growth in Medicare spending relative to private insurance, spending on benefits and Medicare Advantage, Part A trust fund solvency challenges, and growth in out-of-pocket spending by beneficiaries.
Read More
This data note provides an overview of programs that help beneficiaries with most incomes with their Medicare costs, including the Medicare Savings Programs (MSP) and the Part D Low-Income Subsidy (LIS), and highlights findings from corresponding state-level profiles of eligibility and enrollment.
Medicare advantage statistics
Latest Polling
42%
of all Medicare beneficiaries (26 million people) are enrolled in Medicare Advantage plans in 2021. (
2021 enrollment update
)
29%
of all Medicare beneficiaries live in a county where more than half of Medicare beneficiaries in that county are enrolled in Medicare Advantage plans
(2021 Enrollment Update)
81%
of Medicare Advantage enrollees are in plans that receive bonuses based primarily on quality ratings, at a cost of $11.6 billion in 2021
(Star Ratings and Bonuses)
Basics

Medicare plays a key role in providing health care and financial security to more than 60 million older people and younger people with disabilities.

Supplemental Coverage

This data note explores sources of coverage among beneficiaries in Medicare and the demographic characteristics of people with different types of coverage, based on data from the 2018 Medicare Current Beneficiary Survey.

Disparities

This chart collection examines the characteristics, experiences, and outcomes of the Medicare population by race and ethnicity. It includes data to describe demographics, health status and disease prevalence, health coverage, access to care and service utilization, and health outcomes, including data pertaining to disparities related to COVID-19.

medicare part d

The Medicare Part D program provides an outpatient prescription drug benefit to older adults and people with long-term disabilities in Medicare who enroll in private plans, including stand-alone prescription drug plans (PDPs) to supplement traditional Medicare and Medicare Advantage prescription drug plans (MA-PDs) that include drug coverage and other Medicare-covered benefits.

quiz

Take this quiz to find out how much you know about Medicare, the people it serves, the benefits it covers, and its financial status.
Browse the Latest from KFF