2017 Employer Health Benefits Survey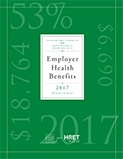 This annual survey of employers provides a detailed look at trends in employer-sponsored health coverage including premiums, employee contributions, cost-sharing provisions, and employer practices. The 2017 survey included more than 2,100 interviews with non-federal public and private firms. Annual premiums for employer-sponsored family health coverage reached $18,764 this year, up 3% from last year, with workers on average paying $5,714 towards the cost of their coverage, according to the Kaiser Family Foundation/Health Research & Education Trust 2017 Employer Health Benefits Survey. The 2017 survey includes information on the use of incentives for employer wellness programs, plan cost sharing, and firm offer rates. Survey results are released in a variety of ways, including a full report with downloadable tables on a variety of topics, summary of findings, and an article published in the journal Health Affairs.
News release
summary of findings
full report
health affairs
web briefing
interactive graphic
key exhibits-chartpack
additional resources
Researchers at the Kaiser Family Foundation, NORC at the University of Chicago, and Health Research & Educational Trust designed and analyzed the survey.