2018 Employer Health Benefits Survey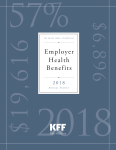 The 2019 Employer Health Benefits Survey was released on September 25.
.
This annual survey of employers provides a detailed look at trends in employer-sponsored health coverage including premiums, employee contributions, cost-sharing provisions, offer rates, wellness programs, and employer practices. The 2018 survey included 2,160 interviews with non-federal public and private firms. Annual premiums for employer-sponsored family health coverage reached $19,616 this year, up 5% from last year, with workers on average paying $5,547 toward the cost of their coverage. The average deductible among covered workers in a plan with a general annual deductible is $1,573 for single coverage. Fifty-six percent of small firms and 98% of large firms offer health benefits to at least some of their workers, with an overall offer rate of 57%. Survey results are released in several formats, including a full report with downloadable tables on a variety of topics, a summary of findings, and an article published in the journal Health Affairs.
News release
summary of findings
full report
health affairs
related analysis
 This related brief on the Peterson-Kaiser Health System Tracker examines employer claims data to measure the uptake of telemedicine services by employees and their family members.
web briefing
interactive graphic
key exhibits-chartpack
additional resources
Researchers at the Kaiser Family Foundation and NORC at the University of Chicago designed and analyzed the survey.