Workers Covered By Smaller Firms Pay More Toward Family Premiums and in Cost Sharing Than Those in Larger Ones
Menlo Park, Calif. – Annual family premiums for employer-sponsored health insurance rose an average of 3 percent to $18,764 this year, continuing a six-year run of relatively modest increases, according to the benchmark Kaiser Family Foundation/Health Research & Educational Trust (HRET) 2017 Employer Health Benefits Survey released today.
This year's premium increase is similar to the rise in workers' wages (2.3%) and inflation (2%) over the same period and continues a remarkable slowdown.  Since 2012, average family premiums have increased 19 percent, more slowly than the previous five years (30% increase from 2007 to 2012) and the five years before that (51% from 2002 to 2007).
At the same time, workers' average contribution to family premiums has increased more rapidly than the employer's share since 2012 (32% v. 14%). Workers on average now contribute $5,714 annually toward their family premiums, and those at firms with fewer than 200 workers contribute more – $6,814 on average.
"Our survey finds employer premiums rose just 3 percent this year – far less than the 20 percent average in the Affordable Care Act marketplaces," KFF President and CEO Drew Altman said. "While the marketplaces seem to get all the attention, the much larger employer market where more than 150 million people get their coverage is very stable."
"This year's findings continue a positive run of a slowing in premium increases and in the growth of health care costs overall," said Dr. Jay Bhatt, president of HRET and senior vice president and chief medical officer at the American Hospital Association. "As policymakers and providers continue to work to improve health care, ensuring it remains affordable and accessible is critically important. Wellness programs continue to be a popular way for employers to offer resources and financial incentives to their employees to help improve their overall health."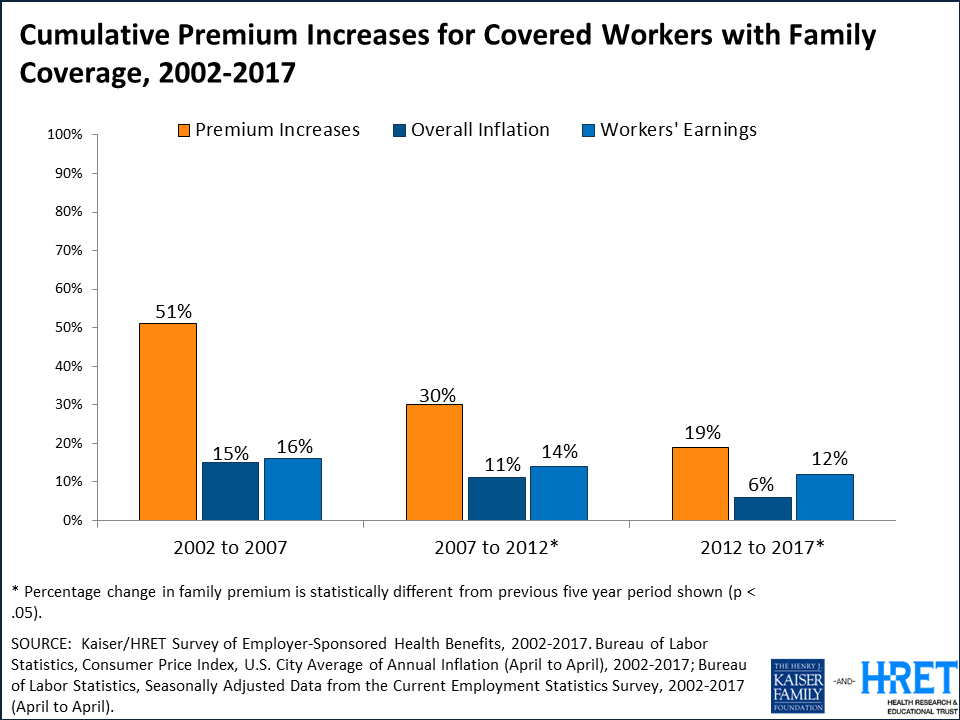 About 151 million Americans rely on employer-sponsored coverage, and the 19th annual Kaiser/HRET survey of more than 2,100 small and large employers provides a detailed picture of the trends affecting it. In addition to the full report and summary of findings released today, the journal Health Affairs is publishing a Web First article with select findings, and the Foundation is releasing an updated interactive graphic that charts the survey's premium trends by firm size, industry, and other factors.
The survey highlights big differences in what covered workers at large and small firms pay for their health care. While there are far more small employers (3.1 million with 3 to 199 workers) than large ones (53,400 with at least 200 workers), more covered workers are at large firms (71%) than small ones (29%).
Those covered by small firms generally must pay more to cover their families:
Workers covered by small firms on average contribute $1,550 more annually for family health coverage than those at large firms ($6,814 compared to $5,264).
The gap occurs in part because small firms are three times as likely as large ones (45% v. 15%) to contribute the same dollar amount toward a worker's health benefits whether or not they enroll family members. More than a third (36%) of workers at small firms pay most of the total premiums for family coverage; far fewer (8%) do so at large firms.
Aggregate family deductibles are also higher at small firms than at large ones across all types of plans. For example, workers covered in PPOs (the most common plan type) face an average aggregate family deductible of $3,660 at small firms, nearly twice the $1,899 average at large ones.
The data are more mixed for workers enrolled in single coverage:
Workers on average contribute $1,213 annually toward their single premium, though workers at small firms on average contribute less ($1,030) than those at large firms ($1,289).
The average annual deductible for single coverage across all workers who face one is $1,505 in 2017, but it is 66 percent higher for workers at small firms ($2,120) than large firms ($1,276).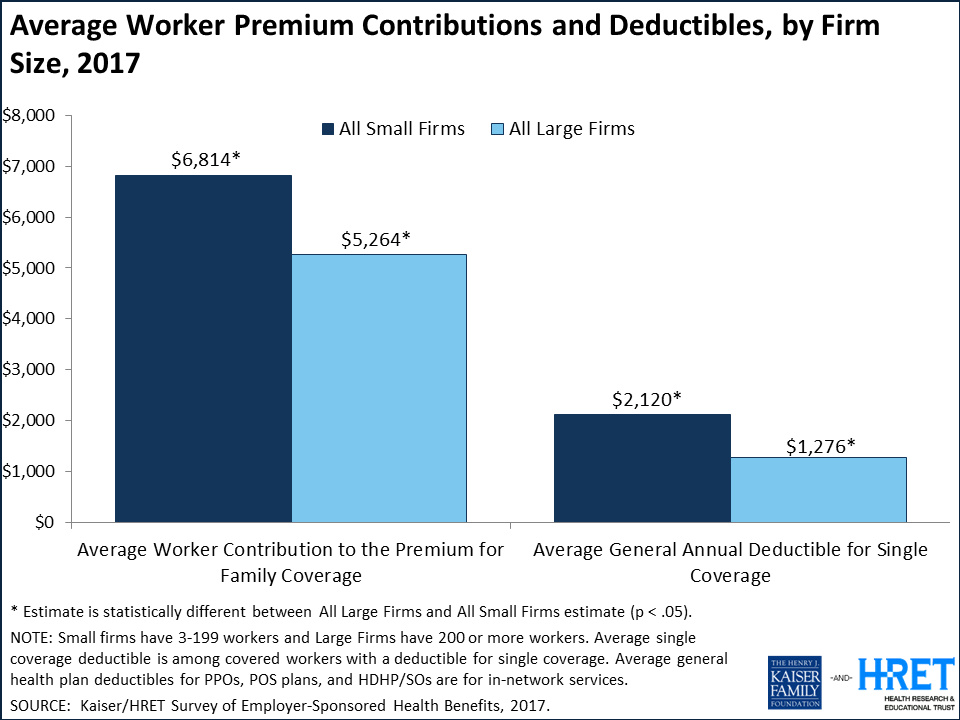 The survey finds just half (50%) of firms with fewer than 50 workers offer health benefits this year, down significantly from 2012 when 59 percent of firms this size offered benefits. Among small firms that do not offer health benefits, most say the most important reason is either high costs (44%) or because they are too small (17%).
Of these small non-offering firms, 16 percent say that they provide funds to their employees to purchase health insurance on their own in the individual market or through the ACA marketplaces. However, very few (2%) say that the most important reason is that their employees can get a better deal in the marketplaces.
"Small firms are much less likely to offer health benefits to their workers, and when they do, workers may find it quite costly to enroll their families," said study lead author Gary Claxton, a KFF vice president and director of the Health Care Marketplace Project.
Other survey findings include:
Supplemental benefits. Most large firms that offer health benefits also offer dental (97%) and vision benefits (82%) separate from any coverage in the health plans they offer. Fewer offer long-term care insurance (25%). Small firms that offer health benefits are less likely than large ones to offer any of these other benefits.
Financial incentives for wellness. Most large employers offer wellness and/or health screening programs such as health risk assessments, which are questionnaires about enrollees' medical history, health status, and lifestyle, or biometric screenings, which are health examinations conducted by a medical professional. Close to half (45%) of large offering firms provide incentives for workers to participate in these programs. Among this group, 42 percent offer maximum financial incentives of at least $500.
Penalties for tobacco use. Among firms offering health benefits, 16 percent of small firms and 14 percent of large firms require higher premium contributions or cost sharing from workers who use tobacco.
Methodology
The annual survey is a joint project of the Kaiser Family Foundation and the Health Research & Educational Trust. The survey was conducted between January and June of 2017 and included 3,938 randomly selected, non-federal public and private firms with three or more employees (including 2,137 that responded to the full survey and 1,801 others that responded to a single question about offering coverage). A research team at Kaiser, HRET, and NORC at the University of Chicago, led by Kaiser vice president and long-time project director Gary Claxton, designed, conducted and analyzed the survey. For more information on the survey methodology, please visit the Survey Design and Methods Section.
Founded in 1944, the Health Research & Educational Trust (HRET) is the not-for-profit research and education affiliate of the American Hospital Association (AHA). HRET's mission is to transform health care through research and education. HRET's applied research seeks to create new knowledge, tools and assistance in improving the delivery of health care by providers and practitioners within the communities they serve. For more information about HRET, visit http://www.hret.org.
Health Affairs is the leading peer-reviewed journal at the intersection of health, health care, and policy. Published monthly by Project HOPE, the journal is available in print, online, and on mobile and iPad app. Additional and late-breaking content is found at www.healthaffairs.org