State Restrictions on Telehealth Abortion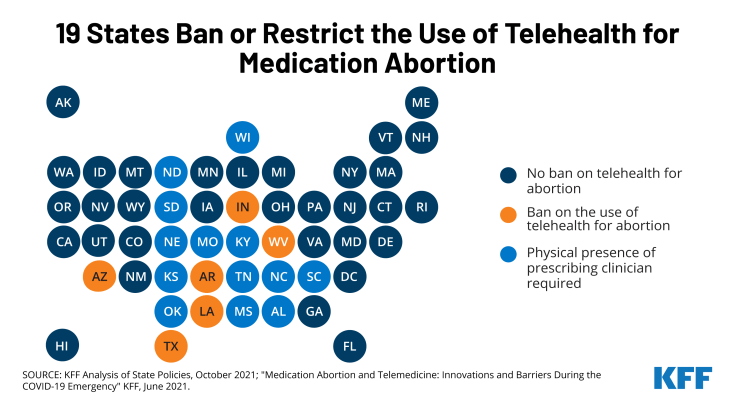 On December 1, the Supreme Court heard oral arguments on Dobbs v. Jackson Women's Health Organization, an abortion case that could effectively overturn Roe v. Wade. While the Supreme Court is deciding on the future of abortion, the FDA is currently reviewing a policy that could also affect the availability of medication abortion – the most common method of terminating a pregnancy in the first 10 weeks.
Mifepristone, one of the two drugs taken for medication abortion, cannot be dispensed by retail pharmacies like most other medications; rather, pregnant patients can only obtain the drug directly from an abortion provider even though the medications are typically taken at home. The FDA has suspended its enforcement of this in-person dispensing requirement during the pandemic health emergency to reduce the risk of COVID-19 transmission in health care settings. However, 19 states ban or restrict the use of telehealth for abortion. Five states completely ban telehealth for medication abortion, while the other 14 states require the physical presence of the prescribing clinician to receive the medication
If Roe v. Wade is overturned, many states will quickly move to restrict or ban abortions. People seeking an abortion who live in those states may be able to access medication abortion via telehealth if their state does not restrict telehealth abortions and if they are within the first 10 weeks of pregnancy.
Source