The Nelson Mandela Award for Health and Human Rights
The Nelson Mandela Award for Health and Human Rights
In Memoriam Nelson Mandela 1918-2013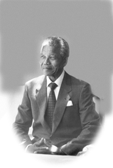 The Nelson Mandela Award for Health and Human Rights was instituted in March 1992 by the Henry J. Kaiser Family Foundation. The Award is named for President Mandela in honor of his universal standing as a symbol of struggle for equity and democracy in South Africa and in appreciation of his personal interest in the work of the Foundation.
The idea for the Award arose out of conversations with Mr. Mandela shortly after his release from prison about underscoring the importance of health to South Africa's future. Mr. Mandela gave his name to the Award and has maintained a close personal interest in it. Mr. Mandela's idea for the Award was that it should place on a pedestal the efforts of individuals who make extraordinary contributions to improving the health and health care of the most disadvantaged sectors of the population in South Africa and internationally.
Recipients of the Award have been nominated by the Foundation in conjunction with the Nelson Mandela Foundation and approved by Mr. Mandela. Occasionally, special Awards are recommended in recognition of exceptional dedication by extraordinary individuals. Previous recipients of 'special' Mandela Awards include:
1993: The late Congresswoman Barbara C. Jordan: Elected to the U.S. House of Representatives from Texas in 1972, Barbara Jordan became the first African- American congresswoman to be elected from the Deep South. After 1979, Ms. Jordan taught at the University of Texas at Austin for sixteen years. Additional, she served as a member of The Henry J. Kaiser Family Foundation's Board of Trustees from 1985–1993 and helped inspire the Foundation's involvement in South Africa.
1997: Rt. Rev. Archbishop Desmond Tutu: Former Archbishop of Cape Town, Nobel Peace Laureate (1984) and distinguished theologian who has dedicated his life to the promotion of social justice and racial reconciliation in South Africa. For two years, Archbishop Tutu served as chair of South Africa's Truth and Reconciliation Commission.
2001: Dr. Peter Piot: Executive Director of the Joint United Nations Programme on HIV/AIDS (UNAIDS) since 1994, Dr. Piot has coordinated a more effective global response to the HIV pandemic and expanded worldwide awareness of its impact. Dr. Piot has won the confidence of political leaders around the globe, helping to forge meaningful commitments in many countries to address HIV/AIDS.
Past Recipients of the Award
2010:  Donna E. Shalala
For dedication to advancing access to health care in the U.S., helping disadvantaged people around the world, and her special commitment to ending apartheid and developing democracy in South Africa
2007: Arthur Chaskalson and Wangari Maathai
Chief Justice Chaskalson for his lifelong contribution to establishing a rights culture in South Africa. Prof. Maathai for her contribution to women's empowerment in Kenya and internationally.
2004: Mercy Makhalemele
For leadership in de-stigmatizing HIV/AIDS.
2003: Treatment Action Campaign
For extraordinary efforts to secure increased access to AIDS treatment.
2002: Prof. Glenda Gray & Prof. James McIntyre
For pioneering work in prevention and HIV transmission from mother-to-child.
2000: Justice Edwin Cameron & Prof. Jerry Coovadia
For extraordinary courage in raising public awareness of HIV/AIDS.
1999: Dr. Abe Nkomo, MP
For leadership in development and passage of health legislation ensuring universal access to health care and reproductive rights.
1998: The Hon. Ebrahim Rasool
For leadership in promoting improved health care for underserved populations in the Western Cape Province and in combating tuberculosis.
1997: Dr. Regina Benjamin (USA)
For dedication to serving the health needs of indigent communities on the Gulf Coast of the US.
1997: Roselyn Mazibuko
For pioneering work in demonstrating a comprehensive approach to combating early childhood malnutrition.
1996: Bill Moyers (USA)
For demonstrating the impact of in-depth journalism on the public understanding of social issues.
1996: Dr. Trudi Thomas
For steadfast commitment to improving the quality of care for children and the elderly.
1995: Charlotte Webb Collins (USA)
For efforts to improve health care for low-income people in the poorest regions of the US.
1995: Mankuba Ramalepe
For development of a model of community-based health care that helped shape the post-apartheid approach to primary health care.
1994: Dr. Mvuyo Tom
For outstanding leadership of the national movement of health providers against apartheid.
1994: Sylvia Drew Ivie (USA)
For leadership in developing a model for multi-cultural health care in poor communities of Los Angeles.