Today's Topics In Health Disparities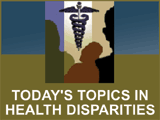 The Kaiser Family Foundation presents a series of live, interactive webcasts devoted to addressing a range of issues relating to health and health care disparities in the United States. Each discussion will feature a panel of experts tackling current issues in health disparities and answering questions from webcast viewers.
2011
PREVIOUS SHOWS:
2009
2008

2007
Please note: the video is no longer available. If you have an urgent need for the video, you may contact us (choose "problem with video" on the form) and we will try to locate the video. Include the URL for this page in your message to us.
For KFF reference:
/a2355/o23/2008/120908_tthd_multi_256k.wmv
/a2355/o23/2008/082008_tthd_multi_256k.wmv
/a2355/o23/2008/051408_tthd_multi_256k.wmv
/a2355/o23/2008/031208_tthd_multi_256k.wmv
/a2355/o23/globix/2007/121407_tthd_pt1_multi_256k.wmv
/a2355/o23/globix/2007/121407_tthd_pt2_multi_256k.wmv
/a2355/o23/globix/2007/080207_tthd_multi_256.wmv
/a2355/o23/globix/2007/050207_tthd_multi_256k.wmv
/a2355/o23/globix/tthd/030207_tthd_multi_256k.wmv