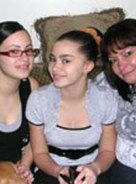 Carmen Rosado
Bridgeport, Connecticut
profile
more about medicaid
state data
When Carmen Rosado got divorced a few years ago, she and her two teen daughters, Crystal and Nelly, lost their private health insurance. Carmen took a new job working nights, but it offered no health coverage and, without Medicaid, the family would have been uninsured. With Medicaid, Crystal and Nelly have stayed up-to-date on their well-child visits and immunizations, and the eyeglasses they need and the doctor visits they occasionally make when they get sick are also covered. Carmen has had some serious health problems in recent years, requiring hospitalization. Medicaid prevented her from having to face tens of thousands of dollars in medical bills that she could not afford to pay.
Carmen reports that Medicaid has enabled her daughters to get the well-child visits and immunizations they should, and on time. States are required to cover vaccinations at no cost for all children enrolled in Medicaid. In covering childhood immunizations, Medicaid not only protects low-income children from deadly diseases, but also plays an important public health role. According to the National Committee on Quality Assurance, about three-quarters of children with Medicaid coverage received recommended vaccinations in 2009, similar to the share of privately insured children who did so.
It's helped them be healthy, be on track with their shots and everything that's needed.