This Week in Coronavirus: January 22 to January 28
KFF Jan 29, 2021
Here's our recap of the past week in the coronavirus pandemic from our tracking, policy analysis, polling, and journalism.
The world surpassed 100 million COVID-19 cases this week, with the United States accounting for a quarter of them. The U.S. also accounts for one-fifth (433,200) of the world's nearly 2.2 million reported deaths.
A new analysis shows that COVID-19 is currently the number one cause of death in the country. As of January 26, 2021, an average of more than 3,000 people per day died of COVID-19 in the U.S. this month, nearly 50% higher than the next leading cause.
The COVID-19 Vaccine Monitor reports the public's eagerness to get a vaccine is rising across racial and ethnic groups, though Republicans and rural residents remain the most reluctant groups.  Nearly half (47%) of the public want to get the vaccine as soon as they can or have already been vaccinated. That is significantly higher than the third (34%) of the public in the most-eager "as soon as possible" category in December.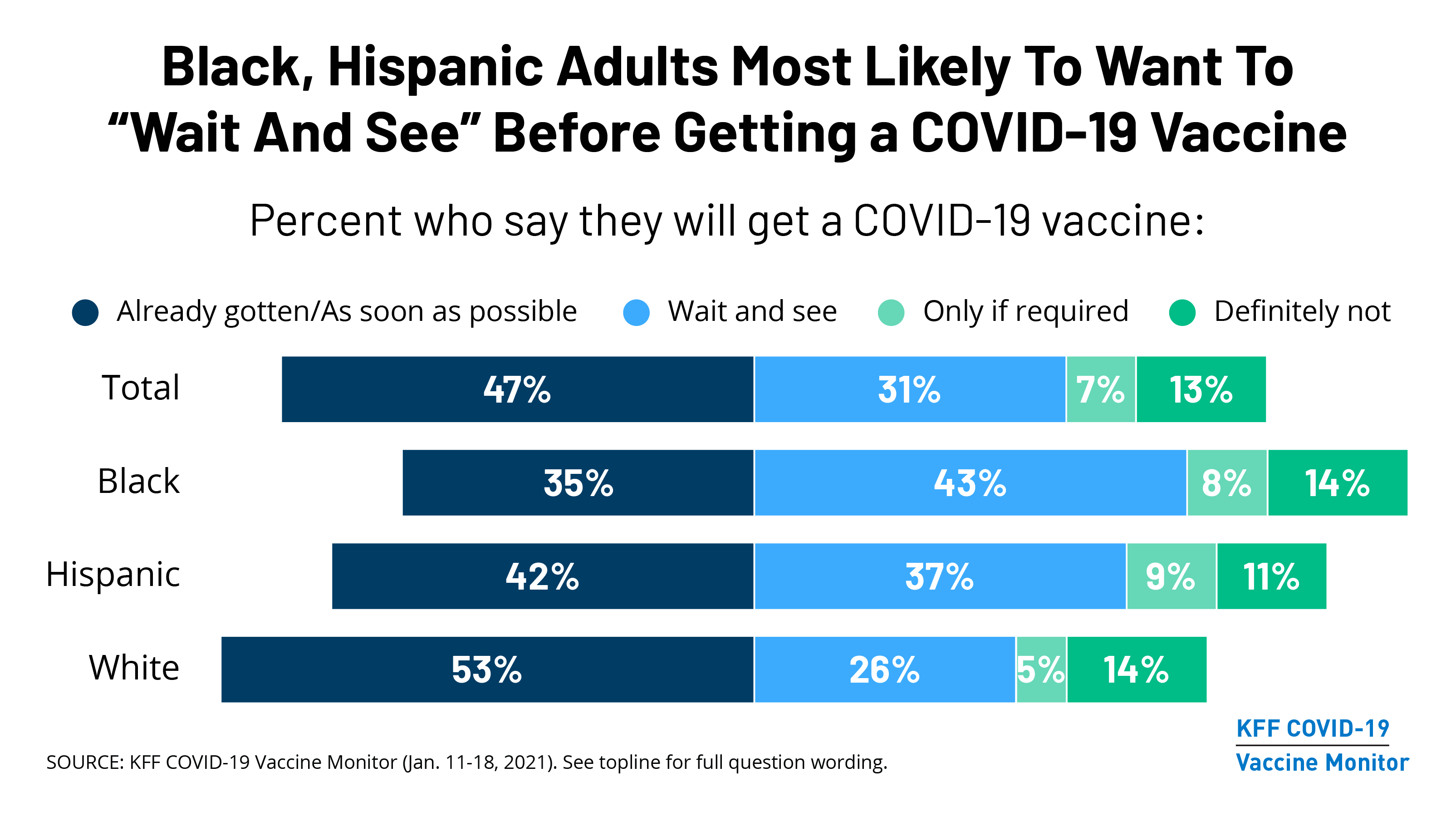 Data and analysis related to vaccine acceptance and hesitancy, trusted messages and messengers, demographic breakouts, and people's experiences, are now featured in a new dashboard for the Monitor. The dashboard will be updated regularly to reflect the latest data and current issues.
As KHN reports on the challenge of ramping up vaccine production, Drew Altman dives into the discussion about how many vaccinations are needed, and by when, for herd immunity. Here are his estimated goalposts on the calendar and what it would take to vaccinate 70% of the country's population by then:
July 4 → 2.4 million doses/day
Labor Day → 1.9 million doses/day
Jan 1, 2022 → 1.2 million doses/day
Reporting from KHN continues to show that vaccination is lagging for Black Americans and highlights the lack of data about who is being vaccinated. But there are disparities long before the point of getting shots in arms. KFF analysts this week examined why racial diversity within COVID-19 vaccine clinical trials is important, the clinical trial participation barriers among people of color, and examine the racial/ethnic composition of clinical trial participants for the Pfizer-BioNTech and Moderna coronavirus vaccines.
President Biden issued an executive order this week to reopen enrollment into the Affordable Care Act's marketplaces for a special period in order to reduce the number of uninsured during the ongoing pandemic. An analysis finds that nearly 9 million uninsured Americans could get free or subsidized health insurance with the reopening. Another brief looks at opportunities to expand health coverage enrollment during the pandemic.
Here are the latest coronavirus stats from KFF's tracking resources:
Global Cases and Deaths: Total cases worldwide stand at 101.5 million this week – with an increase of 3.9 million new confirmed cases in the past seven days. There were approximately 99,500 new confirmed deaths worldwide, bringing the total for confirmed deaths to nearly 2.2 million.
U.S. Cases and Deaths: Total confirmed cases in the U.S. approached 25.8 million this week. There was an increase of about 1.1 million confirmed cases between Jan. 21 and Jan. 28. Approximately 22,800 confirmed deaths in the past week brought the total in the United States to 433,200.
State Social Distancing Actions (includes Washington D.C.) that went into effect this week:
Extensions: CO, DE, IN, NH, NC, SC, WY
Rollbacks: CA, IL, NM, ND, OH, WY
The latest KFF COVID-19 resources:
The latest KHN COVID-19 stories: