Drug overdose deaths rose during the early part of the COVID-19 pandemic, with some of the biggest jumps occurring among people of color, a new KFF analysis finds.
The analysis breaks out drug overdose deaths by race and ethnicity for the first nine months of 2020, when the pandemic triggered widespread shutdowns and job losses, to the same period in each of the two prior years.
Between 2018 and 2020, drug overdose death rates increased across all racial and ethnic groups, but increases were largest for Black and American Indian and Alaska Native people. White and Hispanic people also experienced significant increases in drug-overdose deaths during those two years, though the death rate among Hispanic people remains well below the rate among those other groups.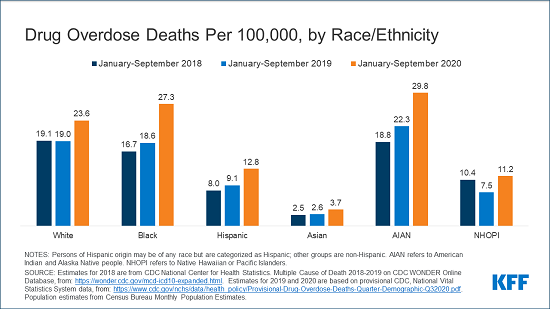 The analysis also looks at other trend data on drug overdose deaths and other indicators of substance use prevalence and access to care by race and ethnicity, as well as recent and pending legislation aimed at addressing the nation's substance use and mental health challenges.