High Federal Match for Adult Expansion Group Contributed to Substantially Slower State Medicaid Spending Growth in Expansion States Compared to Non-Expansion States
Survey Also Finds States Relying More on Managed Care, Undertaking Delivery System Reforms
The Affordable Care Act's Medicaid expansion resulted in record increases in Medicaid enrollment and spending nationally in fiscal year 2015, with both rising an average of nearly 14 percent, according to the 15th annual 50-state Medicaid budget survey by the Kaiser Family Foundation's Commission on Medicaid and the Uninsured.
The survey of Medicaid directors across the country, conducted with Health Management Associates, shows big differences across states driven largely by the states' decisions on the Medicaid expansion. The 29 states expanding Medicaid in FY 2015 reported enrollment and total Medicaid spending growth nearly three times the rate seen in non-expansion states. Adults newly eligible for Medicaid under the ACA with 100 percent federal financing were the primary driver, with enrollment climbing an average of 18 percent and total spending up an average of 17.7 percent in expansion states. By contrast, enrollment and total Medicaid spending grew an average of 5.1 percent and 6.1 percent, respectively, in non-expansion states, with the increase in enrollment largely due to increased participation of previously eligible parents and children.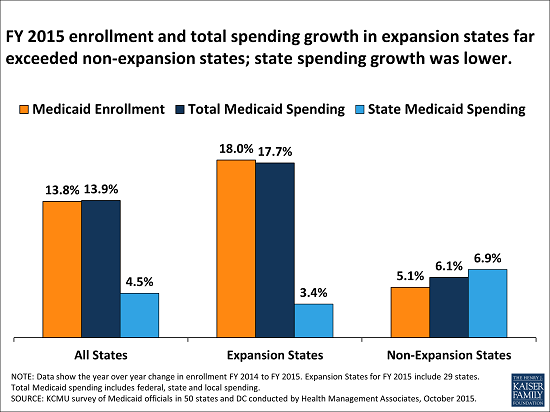 The survey also finds that state Medicaid spending growth in expansion states (3.4%) was more modest than in non-expansion states (6.9%). Formula-driven changes to traditional federal match rates, particularly in large non-expansion states like Texas, had a disproportionate effect on boosting the average growth in state Medicaid spending across non-expansion states. State Medicaid spending growth in expansion states was much lower than total spending growth because the federal government picked up 100 percent of the costs of covering enrollees who were newly eligible under the ACA. Non-expansion states, in contrast, did not receive this enhanced match rate, and the Medicaid costs in these states are financed jointly by the states and the federal government through the traditional FMAP rates. The 100 percent match rate for Medicaid expansion adults drops to 95 percent in January 2017.
"States that opted to expand Medicaid saw significant gains in coverage, reductions in the uninsured, and access to additional federal funds," said Diane Rowland, Executive Vice president of the Foundation and Executive Director of the KCMU. "But many other changes are underway in Medicaid programs across the country as states engage in an array of delivery system reforms to help coordinate care and control costs."
The survey also provides an examination of state Medicaid policy and program changes across the country. It finds that 48 states are using some form of Medicaid managed care, with 39 states contracting with risk-based managed care organizations (MCOs). In other findings, 37 states in either FY 2015 or FY 2016 adopted or expanded payment and delivery system initiatives such as patient-centered medical homes, accountable care organizations and health homes in an attempt to control costs, reward quality or coordinate care.  And more than two dozen states have either already taken advantage of at least one of the policy options available in the ACA to promote the use of more home and community-based long-term services and supports, or plan to do so in FY 2016. Over two-thirds of states in FY 2015 and half in FY 2016 say they've refined their pharmacy programs to try to rein-in rising expenditures for high-cost and specialty drugs such as hepatitis C antiviral medicines.
These and other findings from the 50-state survey were discussed today at a public briefing held jointly by Kaiser and the National Association of Medicaid Directors (NAMD). The following new reports are available:
Medicaid Enrollment & Spending Growth: FY 2015 & 2016, which provides an analysis of national trends in Medicaid enrollment and spending;
Medicaid Reforms to Expand Coverage, Control Costs and Improve Care: Results from a 50-state Medicaid Budget Survey for State Fiscal Years 2015 and 2016, completed in collaboration with NAMD, which provides a detailed look at the various policy and program changes in all 50 states; and
Putting Medicaid in the Larger Budget Context: An In-Depth Look at Three States, a collection of three case studies of Medicaid programs in Alaska, California and Tennessee.
An archived webcast of the briefing, as well as copies of presentation slides and other materials, will be available on kff.org later today.