Politics and Boosters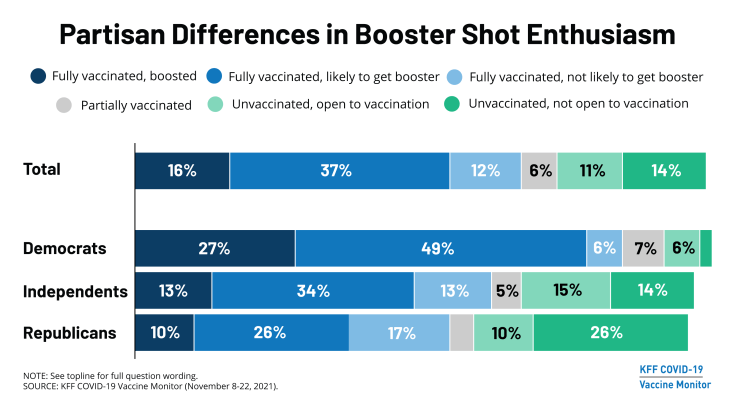 Early studies suggest that while vaccine-induced immunity against COVID-19 may wane over time, booster shots help strengthen individuals' level of protection against omicron and other variants. Findings from the KFF COVID-19 Vaccine Monitor show that just over half of U.S. adults have received a booster (16%) or are likely to get one (37%). This leaves about one in five who are either fully vaccinated but unlikely to get a booster (12%) or only partially vaccinated (6%), and one-quarter who still have not gotten a first shot, including 14% who say they will "definitely not" get vaccinated.
Partisans look very different on this measure. Three in four Democrats have already received a booster or are likely to get one compared to about half of independents and just over a third of Republicans. While omicron could change this calculation, the partisan divide that has emerged early into America's booster campaign could increase pressure on health systems in heavily Republican areas if fewer individuals choose to get boosters that offer maximum protection against future waves of the virus.
Source