Vaccinated Adults Are Nearly Twice as Likely as Unvaccinated Ones to Worry that New Variants Like Delta Will Worsen the Pandemic Nationally and Locally
As public health officials struggle to boost vaccination rates nationally, the latest KFF COVID-19 Vaccine Monitor reports that a narrow majority (53%) of unvaccinated adults believe the vaccine poses a bigger risk to their health than COVID-19 itself.
In contrast, an overwhelming majority (88%) of vaccinated adults say that getting infected with COVID-19 is a bigger risk to their health than the vaccine.

Relatively small shares of unvaccinated adults also believe the vaccines are "extremely" or "very" effective at preventing death (23%), serious illness or hospitalization (21%), or getting infected after exposure (13%), in spite of substantial evidence and the conclusions of official scientific bodies that the vaccines work well at each of those things. Vaccinated adults are at least three times as likely to believe the vaccines prevent those outcomes.
Most (57%) unvaccinated adults also say that the news has "generally exaggerated" the seriousness of the pandemic, while three-fourths of vaccinated adults say the news has been "generally correct" (53%) or has "underestimated" its seriousness (24%). Among those who say they will "definitely not" get a vaccine, 75% say the news is exaggerated.
The sharply different views of the vaccinated and unvaccinated help to explain the contentiousness of ongoing policy debates about vaccine mandates.
For example, vaccinated adults are far more likely than unvaccinated adults to say the federal government should recommend employers require vaccinations among their workers (68% vs. 16%). The public overall is split, with similar shares saying they think the federal government should recommend this (51%) and should not (45%).
Vaccinated adults also are more likely to say they wear masks in grocery stores and other indoor places (53% vs. 44%), at work (45% vs. 35%), or in crowded outdoor settings (45% vs. 35%).
These differences are to a large degree driven by unvaccinated Republicans. Majorities of Republicans say they "never" wear a mask outdoors in crowded outdoor places, at work, or in a grocery store. Democrats are more likely to report wearing a mask at least most of the time in all of these locations.
Fielded from July 15-27, before developments on the Delta variant led the Centers for Disease Control and Prevention to issue new guidance on masking, two-thirds (67%) of adults in July report having gotten at least one dose of a COVID-19 vaccine, little changed from June (65%) as the pace of vaccinations nationally has slowed. Another 3% say they hope to get a shot "as soon as possible," and one in 10 (10%) say they want to "wait and see" how the vaccine works for others before getting a shot.
In addition, 3% say that they would only get a vaccine "if required" to do so for work, school or other activities, and 14% say they will "definitely not" get vaccinated. The size of the "definitely not" group has not changed significantly since KFF started tracking people's intentions in December.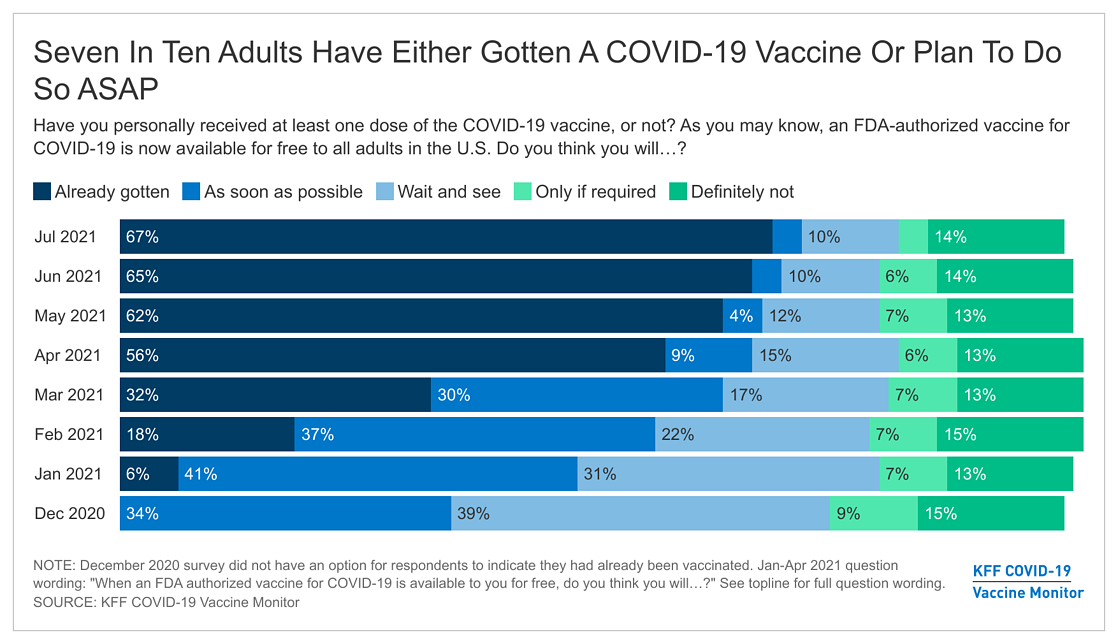 At least eight in 10 Democrats, adults 65 and older and college graduates report having gotten at least one vaccine dose. At the other extreme, fewer than six in 10 uninsured adults, Republicans, rural residents and adults under age 50 report receiving a vaccine.
A quarter of unvaccinated adults (8% of all adults) say it is likely they will get a COVID-19 vaccine by the end of the year. This includes nearly half (45%) of those in the "wait and see" group.
"A quarter of those who were unvaccinated say they likely will get a shot by the end of the year," KFF President and CEO Drew Altman said. "Seeing their friends get sick and local hospitals fill up again with COVID patients may speed them along and add to their ranks." 
A companion Vaccine Monitor report focused on parents' views and intentions as schools prepare to reopen in the Fall will follow next week.
Vaccinated Adults Worry More About New Variants Like Delta Worsening the Pandemic
As COVID-19's Delta variant becomes the dominant strain in the U.S., most of the public say that they are worried that new virus variants will worsen the pandemic across the country (62%) and in their communities (55%).
Much larger shares of the vaccinated than unvaccinated say that they worry that variants will worsen the pandemic both in the country (74% and 39%) and in their communities (65% and 34%). Vaccinated people are also more likely than unvaccinated ones to worry that they personally will get sick from the new variants (40% and 27%).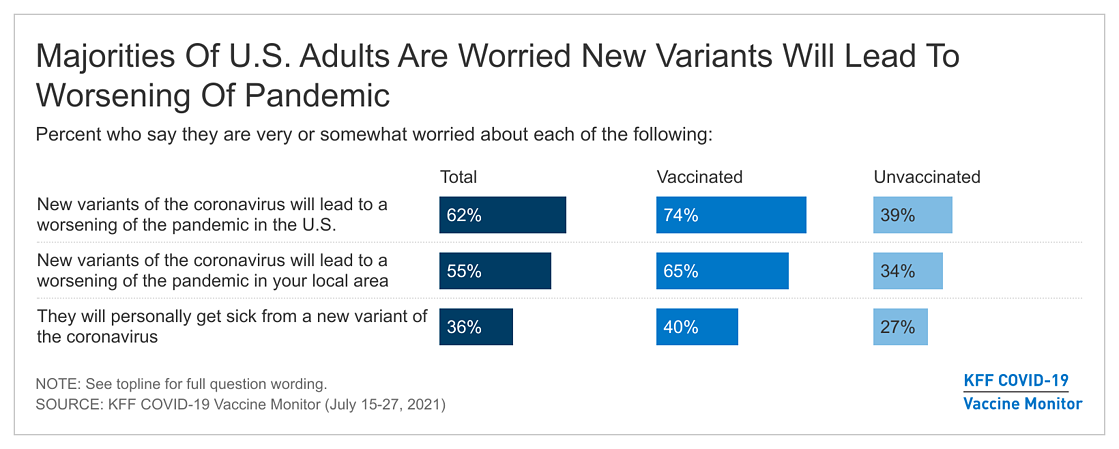 Most vaccinated people who have heard or read at least a little about the new variants say the news has made them more likely to wear a mask in public (62%) and to avoid large gatherings (61%). Smaller shares of unvaccinated adults say they are more likely either to wear a mask (37%) or avoid large gatherings (40%).
Other results include:
Most adults (60%) say they have read or heard about the possibility that some vaccinated people might need COVID-19 booster shots to maintain their protection. A quarter (24%) of vaccinated adults who have heard about the potential need for booster shots say that this has caused them to worry that they may not be well-protected against the virus.
Confidence in the safety of the three COVID-19 vaccines currently available in the U.S. has not changed significantly since April. About three-quarters (74%) of adults now say the vaccines are safe. Similar shares say the Pfizer (72%) and Moderna (68%) vaccines are safe. About half (47%) say the Johnson & Johnson vaccine is safe.
Designed and analyzed by public opinion researchers at KFF, the KFF Vaccine Monitor survey was conducted from July 15-27 among a nationally representative random digit dial telephone sample of 1,517 adults, including oversamples of adults who are Black (300) or Hispanic (322). Interviews were conducted in English and Spanish by landline (176) and cell phone (1,341). The margin of sampling error is plus or minus 3 percentage points for the full sample. For results based on subgroups, the margin of sampling error may be higher.
The KFF COVID-19 Vaccine Monitor is an ongoing research project tracking the public's attitudes and experiences with COVID-19 vaccinations. Using a combination of surveys and qualitative research, this project tracks the dynamic nature of public opinion as vaccine development and distribution unfold, including vaccine confidence and acceptance, information needs, trusted messengers and messages, as well as the public's experiences with vaccination.