The Exit Polls Show The Need To Confront COVID-19 Denial in Red America
A shorter version of this column has been published by Axios.
Exit polls show that when President Trump accused Democrats of exaggerating the gravity of the COVID -19 pandemic his supporters believed him. Trump supporters showed as they voted that they don't see COVID-19 as a very urgent problem.  It leaves the Biden administration with a massive public re-education challenge in red America and among Trump supporters in every state.
+ For every voter group – whites, Blacks, urban, suburban and rural voters, voters with and without college degrees – about sixty percent of Biden voters said COVID-19 was a top issue driving their vote in the exit poll, which this year polled both voters who mailed in their ballots and voters who went to the polls.
+ But barely more than twenty percent of Trump voters named COVID-19 a top issue influencing their vote.
+ It was just the reverse for the economy.  8% of white Biden voters named the economy their top issue in exit polls, while 48% of white Trump voters did. An identical 8% of small town and rural Biden voters picked the economy while 48% of Trump voters did.
This matters because COVID-19 is surging and it will be exceedingly difficult to get a handle on the pandemic as long as half the adult population – the folks who followed Trump – are COVID-19 deniers and dissenters.  We are also on the verge of seeing a vaccine become a reality. People who don't believe COVID-19 is a serious threat will likely feel less compelled to get a vaccine.
Over decades of messaging about HIV testing and treatment in our Greater Than AIDS program we have learned that there is no one-size-fits-all message. Messages need to be targeted to be effective with different groups. That means heavy use of digital media not PSA's on television. And messengers have to be credible not just famous. Real people and real life stories ring true. Messages that direct people to local resources or actions they can take to protect themselves and their families are often most effective.  An important challenge is to emphasize disproportionate impact on people of color without furthering stigma or marginalization.
The Biden administration will need to convince the deniers that COVID-19 and the economy are not an either or, and that getting a handle on COVID-19 is the route to building the economy. As Trump fades from the presidency more Americans who see COVID-19 denial as fealty to Trump may come around.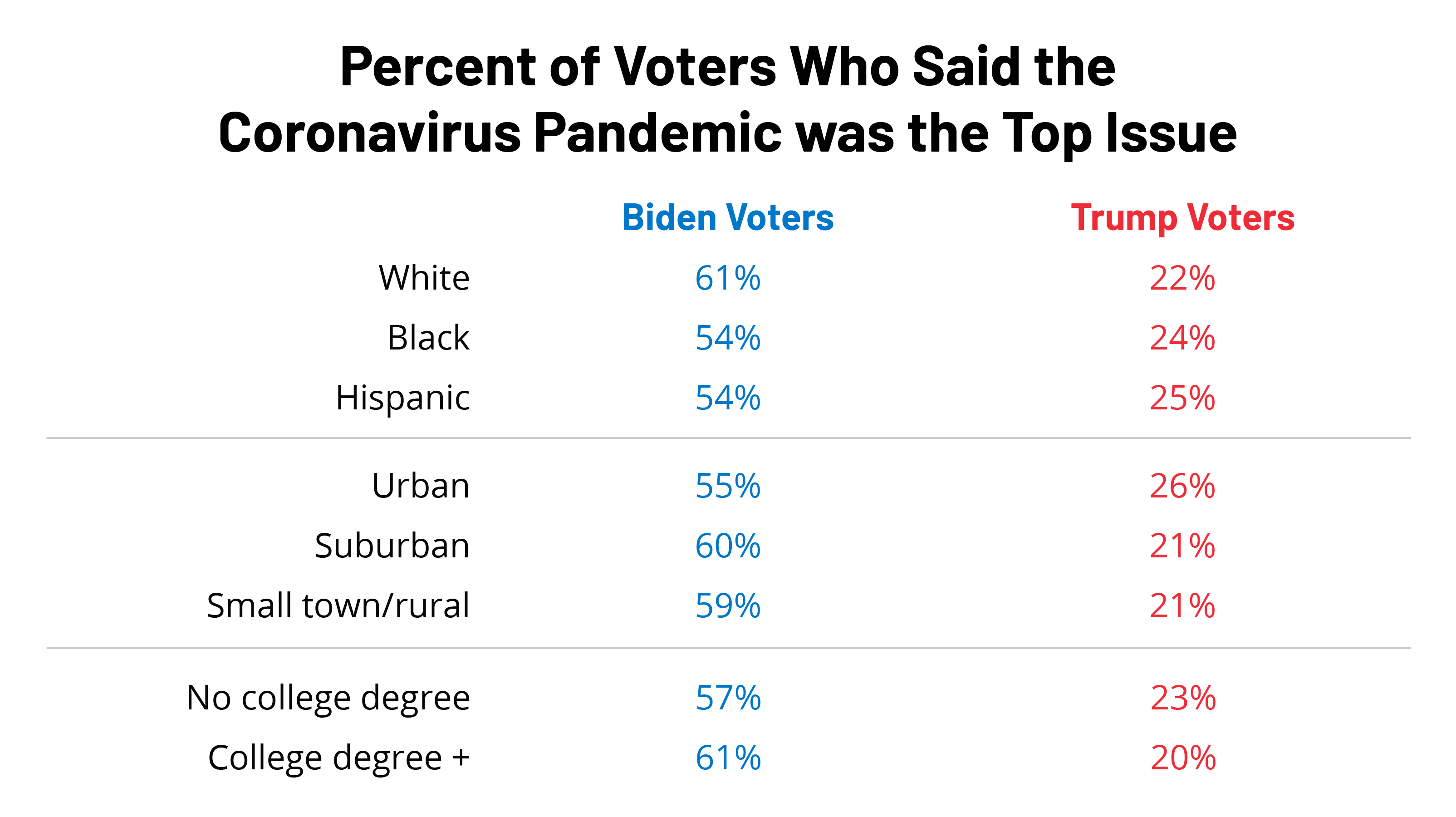 SOURCE: KFF analysis of AP VoteCast, a survey of the American electorate conducted by NORC at the University of Chicago (conducted Oct. 27-Nov. 3).