16 States and DC Have State Laws Protecting the Right to Abortion if Roe v. Wade is Overturned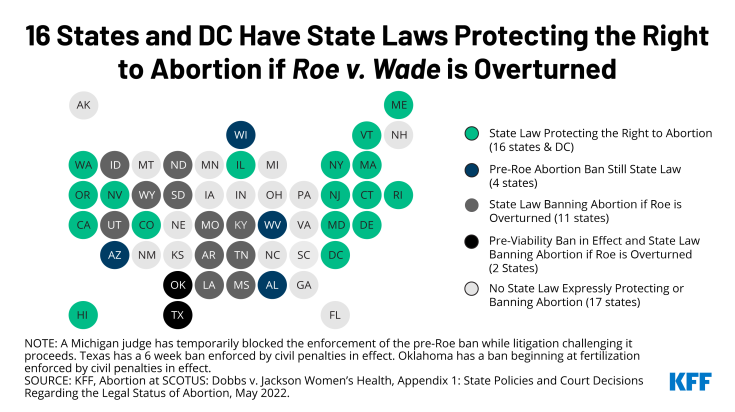 On May 2, 2022, news media reported a leaked draft of the Supreme Court's decision in Dobbs v, Jackson Women's Health that would overturn Roe v. Wade and Planned Parenthood v. Casey and eliminate the federal standard regarding abortion access. The Supreme Court acknowledged the authenticity of the draft but stated "it does not represent a decision by the Court or the final position of any member on the issues in the case." The final decision is expected sometime next month.
If the Supreme Court overturns Roe v. Wade, states will set their own abortion policies without any federal constitutional standards. Access to abortion care will be protected in 16 states and DC. Abortion will likely become illegal in 17 states that have laws that are intended to immediately ban abortion; four of these states have a law banning abortion on the books that predates Roe v. Wade and 14 states have expressed the intent to limit abortion to the maximum extent permitted by federal law.  While Michigan has a pre-Roe abortion ban on its books, a Michigan judge recently blocked this law while litigation challenging the law as violating the Michigan State Constitution proceeds. Two states, Oklahoma and Texas, currently have a pre-viability ban enforced by civil penalties in effect. Eight states have State Supreme Court decisions recognizing the right to abortion under the state constitution. If the Supreme Court overturns Roe, then some of these states and others without laws have expressed interest in passing state laws banning pre-viability abortions.
Source
KFF, Abortion at SCOTUS: Dobbs v. Jackson Women's Health, Appendix 1: State Policies and Court Decisions Regarding the Legal Status of Abortion, May 2022.