The number of uninsured people rose by nearly 700,000, to 27.4 million people, in 2017, reversing some of the coverage gains achieved under the Affordable Care Act, according to latest analysis of uninsured data by KFF (the Kaiser Family Foundation).
It was the first uptick in the uninsured since implementation of the ACA in 2014, which helped drive down the number of uninsured people in the U.S. from 44 million in 2013 to under 27 million in 2016. That year the uninsured rate dropped to a historic low of 10 percent. It was 10.2 percent in 2017, the most recent year for which federal American Community Survey (ACS) data are available.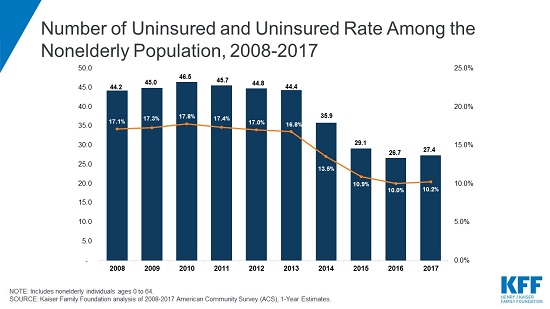 The rise in the uninsured was not spread evenly across all states and groups of people. The uninsured rate remained largely unchanged in the 31 states (plus Washington D.C.) that had expanded Medicaid under the ACA by 2017, declining by less than 0.1 percentage points.  In contrast, the uninsured rate in non-expansion states increased overall, rising by 0.6 percentage points. Thirteen of the 18 states with the highest uninsured rates in 2017 were non-expansion states as of that year.
Among other key findings:
Nearly three-fourths (74%) of the nonelderly adults who were uninsured in 2017 had been without coverage for more than a year.
Over three quarters of the uninsured (77%) in 2017 had at least one full-time worker in their family, and an additional 10% had a part-time worker in their family.
People of color are at higher risk of being uninsured than Whites. People of color make up 42% of the nonelderly U.S. population but accounted for over half of the total nonelderly uninsured population in 2017. Hispanics and Blacks had significantly higher uninsured rates (19% and 11%, respectively) than Whites (7%).
Detailed data on state-by-state changes in the uninsured rate since the implementation of the ACA are available in KFF's recently updated Key Facts About the Uninsured Population. The fact sheet describes how health insurance coverage has changed in recent years, examines the characteristics of the uninsured population, and summarizes the access and financial implications of not having coverage.
About the data
The health coverage data in the fact sheet is now based on analysis of the Census Bureau's American Community Survey (ACS). In the past, the fact sheet and nearly all KFF products that analyzed health coverage data had used the Census Bureau's Current Population Survey (CPS). We also recently updated all years of health coverage data in our online State Health Facts database with data based on the ACS. The ACS allows for precise state-level estimates as well as analyses of longer trends over time.