Amid heightened public concern, the cost of prescription drugs is a focus of attention by the Biden administration and lawmakers in Congress and state capitals. Proposed actions range from allowing Medicare to negotiate the prices of certain drugs to limiting some drug price increases to inflation and capping out of pocket costs for Medicare beneficiaries in Part D, among other initiatives. See KFF's research, analysis and public opinion data, as well as Kaiser Health News' journalism, related to prescription drugs and their costs.
Featured Prescription Drugs Resources
News Release
See More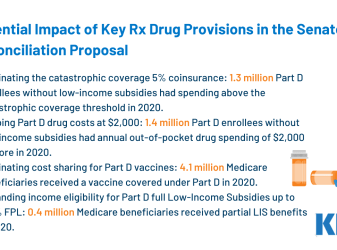 The brief provides a quick explainer of the prescription drug provisions in legislative text released by the Senate Finance Committee to be included in a forthcoming reconciliation bill and presents new estimates on how many Medicare beneficiaries could be helped by those provisions.
Issue Brief
See More
---