The Peterson-KFF Health System Tracker provides clear, up-to-date information on trends, drivers and issues that impact the performance of the system. It also illustrates how the U.S. is performing relative to other countries and how different parts of the system are performing relative to one another. A partnership of the Peterson Center on Healthcare and the KFF, the Tracker's work goal places a heavy emphasis on data and evidence, addressing key questions through collections of charts, which provide data with additional context and synthesis of the latest research and developments. The Tracker also provide regular insight briefs for a more in-depth look at topical questions.
Featured Peterson-KFF Resources
This updated analysis finds that in November 2021, COVID-19 ranked as the 3rd leading cause of death in the U.S., up from 7th in July, due to the more infectious delta variant, insufficient vaccination, and reduced social distancing. At least 163,000 deaths from COVID-19 between June and November could have been prevented with vaccines.
Issue Brief
See More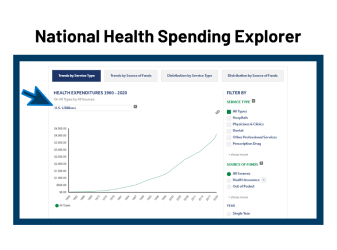 The Health Spending Explorer on the Peterson-KFF Health System Tracker helps users examine five decades worth of numbers documenting expenditures by federal and local governments, private insurers, and individuals on 15 categories of health services, including hospitals, physician and clinic care, and prescription drugs.
Interactive
See More
---