A Look at Key Maternal and Infant Health Disparities Among Black People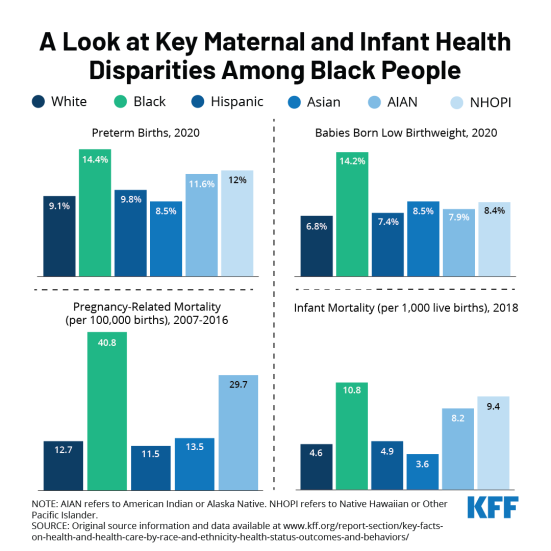 This week marks the fifth annual Black Maternal Health Week, a campaign started by the Black Mamas Matter Alliance that was formally recognized by the Biden administration last year. This week is dedicated to celebrating Black motherhood and raising awareness about the state of Black maternal health in the United States.
Due to systemic and overt discrimination, Black people are disproportionately affected by high maternal and infant morbidities and mortality. A recent KFF analysis found that Black people fared worse than other racial and ethnic groups in all maternal health indicators measured. They were more likely to have preterm births and have low birthweight babies compared to other racial/ethnic groups. Black infants were twice as likely to die as White infants, and Black people were more likely to die while pregnant or within a year of giving birth compared to all other groups.
These disparities were exacerbated during the pandemic, with Black people experiencing maternal death rates at more than twice the national average, a significant increase from pre-pandemic rates, according to a recent CDC report. The Build Back Better Act (BBBA) includes several provisions to address the social determinants of maternal health, increase funding for the perinatal workforce, improve access to quality maternity care, improve data collection, and mitigate the impacts of the pandemic and climate change on maternal outcomes. The BBBA expands the American Rescue Plan Act's voluntary postpartum coverage provision by requiring states to expand their Medicaid postpartum coverage from 60 days to 12 months. It also seeks to close the coverage gap by making low-income people in states that have not expanded Medicaid eligible for subsidized coverage in the ACA marketplace. Both provisions facilitate continuity of coverage and care for people at all life stages, including pregnancy and parenthood. However, the fate of the BBBA and its health provisions remains uncertain while the legislation remains stalled.
In addition to legislation, addressing systemic discrimination, implicit bias and racism will be integral to achieving equity in maternal health outcomes.
Source