Edward Henry
Brunswick, Georgia
profile
more about medicaid
state data
Edward Henry, age 64, lives independently now, following three years in nursing homes after he lost both legs to an infection. Edward's goal was always to live again on his own, and he was able to make this transition through Georgia Medicaid's "Money Follows the Person" (MFP) program. Under MFP, the federal government provides states with enhanced Medicaid matching funds to help individuals receiving care in institutions move back to the community. MFP helped Edward find affordable housing and connected him with health care providers in the community. Medicaid also covers homemaker and meal services a few hours each day and pays for the power wheelchair that enables Edward to grocery-shop and get around town.
The Money Follows the Person (MFP) demonstration grant program was enacted into law in 2006, giving states additional options to transition Medicaid beneficiaries living in institutions, like Edward was, back to the community. Georgia, along with 28 other states and the District of Columbia, currently participates in this demonstration program. As of July 2010, nearly 9,000 Medicaid beneficiaries had been transitioned back to the community under MFP, and another 4,000 transitions are in progress. States use MFP funds for a wide range of services, including expanded case management to coordinate transitions, help with home modifications and one-time housing expenses such as security deposits or household furnishings, use of assistive technology, transportation, and expanded access to durable medical equipment, such as wheelchairs.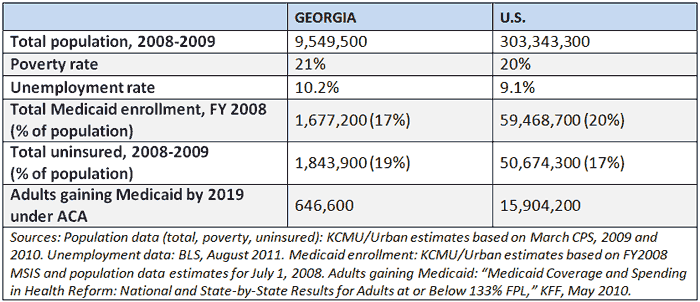 For more information on Georgia's Medicaid program and other data on health coverage, access and expenditures, please visit Georgia's page at www.statehealthfacts.org.
I really wanted to leave the nursing home, but was told there were no funds to help me. Then a social worker came and told me about MFP.