A New York Times/Kaiser Family Foundation Survey of Chicago Residents probes deeply into residents' views of the political, economic and social issues confronting their city, their experiences with crime and policing, and their outlook on life in Chicago's neighborhoods. The Times this weekend launched a series of articles drawing on the joint survey.
Findings include:
Three-quarters of Chicagoans – including large majorities of Blacks, Whites and Hispanics – agree that things in Chicago have seriously gotten off on the wrong track. Crime ranks at the top of the list as the city's biggest challenge, mentioned by six in ten Blacks and Hispanics and a third of Whites. Six in ten in each group also say race relations in the city are bad.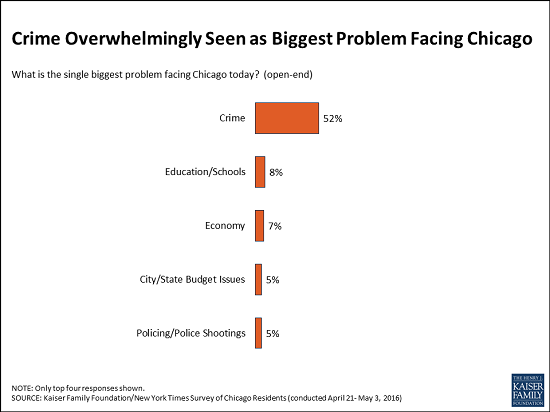 Black residents are dramatically more likely than Whites to perceive a bleak future for young people in their neighborhoods. For instance, far more Blacks than Whites say it's very likely that a young person in their neighborhood will go to jail (54% vs. 11%), be a victim of a violent crime (49% vs. 19%), abuse drugs or alcohol (50% vs. 22%), or be in a gang (47% vs. 11%). More Blacks say it's very likely a typical young person in their neighborhood will do each of these things than say a typical young person will graduate from high school (36% of Blacks vs. 61% of Whites).
Fifty-three percent of Blacks living on the city's South side (and 47 percent of Blacks citywide) say they know someone who has been the victim of a gun crime in the past three years, compared with about a third of Whites and Hispanics.
Six in 10 residents, including almost three quarters of Blacks and about half of Whites, believe that police in Chicago are more likely to use deadly force against a Black person than against a White person.
Striking shares of Blacks report experiencing specific forms of discrimination, including half who feel they were treated unfairly at a store or restaurant, about four in ten who say they were stopped by the police or passed over for a job or promotion, three in ten who say they have felt their life was in danger, and about one in eight who say they were treated unfairly when receiving health care because of their racial or ethnic background.
Roughly a quarter of Chicago residents, including a third of Hispanics, report problems paying medical bills.
Two thirds of Blacks and a majority of Hispanics say they'd move away from their neighborhood if they could – primarily preferring to leave the city entirely rather than more to another neighborhood. In contrast, about half of Whites want to continue living where they are.
The survey is part of a polling partnership between The New York Times and the Kaiser Family Foundation. The poll was designed and analyzed jointly by survey researchers at both organizations. Each organization is solely responsible for the content it publishes based on the survey. The survey was conducted from April 21-May 3 among a representative random digit dial telephone sample of 1,123 adults residing in the City of Chicago. Interviews were conducted in English and Spanish by landline (249) and cell phone (874). The margin of sampling error is plus or minus 4 percentage points for the full sample, 5 percentage points for Blacks, and 7 percentage points for Whites and Hispanics. Full results are available on the Foundation's website. The New York Times coverage drawing on the survey findings are available online.