Health Reform for New Health Reform Reporters
The Alliance for Health Reform sponsored this briefing for a small number of reporters to speed their learning about health reform.
Topics addressed included: What's different about the health reform effort this time around? Who are the key players and their perspectives on reform? What are the key issues and points of disagreement? Exactly where are we in the process? How long is this likely to take? How could the different reform approaches affect ordinary folks?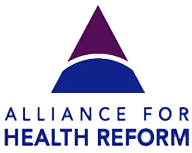 For more information, please visit the Alliance's event page.
Please note: the video is no longer available. If you have an urgent need for the video, you may contact us (choose "problem with video" on the form) and we will try to locate the video. Include the URL for this page in your message to us.
For KFF reference:
/health_cast/player_kff.cfm?id=86
/health_cast/player_kff.cfm?id=87
/health_cast/player_kff.cfm?id=88
/health_cast/player_kff.cfm?id=89
Full version: Video
Speakers for this session:
Ed Howard
Executive Vice President, Alliance for Health Reform
Welcome Remarks
Dean Rosen
Partner, Mehlman Vogel Castagnetti, Inc.
Video
Q & A
Video