House Appropriations Committee approves FY 2017 State and Foreign Operations Appropriations Bill
The House Committee on Appropriations approved the FY 2017 State and Foreign Operations Appropriations bill and associated committee report, which includes funding for U.S. global health programs at the U.S. Agency for International Development (USAID) and the State Department (see table below) comprising a significant portion of U.S. funding for global health (total funding for global health is not currently available as some funding provided through USAID and DoD is not yet available).
Funding in the bill for the Global Health Programs (GHP) account, which includes the majority of global health funding, totaled $8.9 billion, $413 million (5%) above the FY16 enacted level, $340 million (4%) above the President's FY17 request, and $252 million (3%) above the Senate FY17 SFOPs appropriations bill.
Funding for most global health programs under the GHP account increased in the House FY17 SFOPs appropriations bill compared to both the President's FY17 Request and the FY16 enacted level including for the following program areas: tuberculosis, malaria, global health security, maternal and child health (MCH), nutrition, and vulnerable children. Funding for bilateral HIV programs as part of the President's Emergency Plan for AIDS Relief (PEPFAR) and the U.S. contribution to The Global Fund to Fight AIDS, Tuberculosis and Malaria (Global Fund) matched the President's request and the FY16 enacted level. Family Planning and Reproductive Health (FP/RH) was the only program that declined in the House FY17 SFOPs bill as funding was capped at $461 million, $159 million (-26%) below the President's Request and $147 million (24%) below the FY16 enacted level. Funding for neglected tropical diseases (NTDs) was not specified in the bill.
While the House FY17 SFOPs appropriations bill provides increased funding for malaria ($845 million) through the GHP account compared to the President's request ($745 million) and the FY16 enacted level ($674 million), the House bill does not provide the authority requested by the President to transfer an additional $129.0 million in emergency Ebola funding to malaria programs resulting in an overall total that is lower than the President's Request.
The bill also included the following policy provisions:
• Reinstates the Mexico City Policy (also known as the "Global Gag Rule")
• Prohibits funding for the United Nations Population Fund (UNFPA)
Additional Information:
– Learn more about the Senate SFOPs appropriations bill here.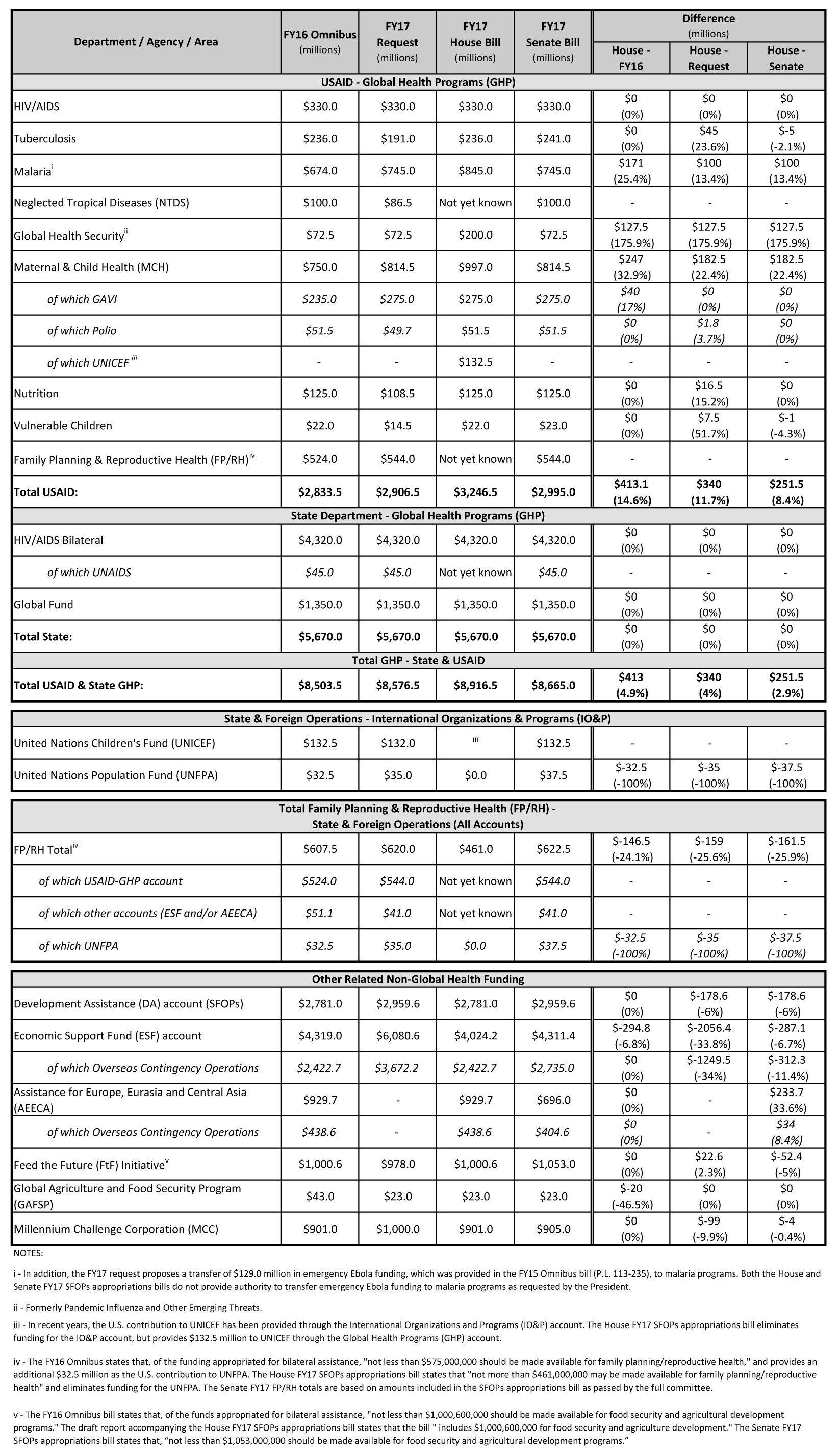 The KFF Daily Global Health Policy Report summarized news and information on global health policy from hundreds of sources, from May 2009 through December 2020. All summaries are archived and available via search.
Tags