Half of Older Adults in Worse Health Have Reported Anxiety or Depression During the Coronavirus Pandemic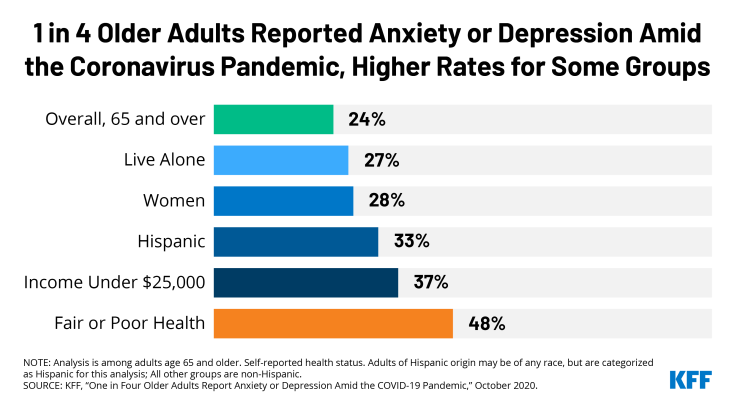 Older adults have been especially impacted by the coronavirus pandemic, as they are at higher risk of serious illness if infected and account for 80% of all COVID-related deaths. The impact of the pandemic on the mental health of older adults is important to consider, particularly because of the increased rates of social isolation, loneliness, and bereavement that older adults may face due to the pandemic. Recent KFF analysis has found that one in four older adults report anxiety or depression amid the pandemic; this rate is substantially higher than the one in 10 (11%) older adults with Medicare who reported depression or anxiety in 2018 (based on the 2018 Medicare Current Beneficiary Survey). Consistent with other KFF analysis, our analysis finds that older adults reported anxiety or depression in August 2020 at a lower rate than adults under the age of 65 (24% vs. 40%). Rates of anxiety or depression among older adults in August 2020 were higher among those who are female, Hispanic, low income, in relatively poor health, who live alone, or who have experienced recent loss of employment income in their household. More specifically:
A larger share of older women than older men reported anxiety or depression: 28% versus 20%.
Older Hispanic adults reported anxiety or depression at higher rates (33%) than older non-Hispanic White adults (23%), non-Hispanic Black adults (26%) and non-Hispanic Asian adults (17%).
More than one in three (37%) older adults with household incomes under $25,000 reported anxiety or depression, almost twice the rate (20%) among older adults with household incomes exceeding $100,000 annually.
Almost half (48%) of older adults in poor or fair self-reported health reported anxiety or depression, compared to 24% of those in good self-reported health and 14% of those in excellent or very good self-reported health.
As the pandemic progresses into the fall and winter, older adults – particularly those already suffering from health conditions – face the continuing challenge of mitigating risk while avoiding loneliness and isolation which can lead to poor mental health.
Source
One in Four Older Adults Report Anxiety or Depression Amid the COVID-19 Pandemic