As winter sets in and COVID-19 cases and deaths reach records in most parts of the country, more Americans say they wear masks every time they leave home now (73%) than said so in May (52%), a new KFF Health Tracking Poll finds.
A small minority (11%) say they wear masks only some of the time or never. This group is more likely to be white (70%), male (65%) and Republican (54%).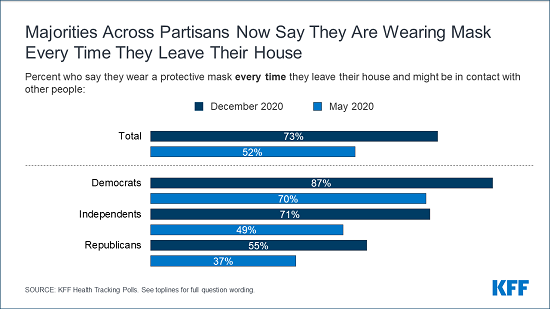 In addition, 7 in 10 Americans (70%) say that they can continue to follow social distancing guidelines to limit COVID-19's spread for at least another six months if necessary. Only small shares say they could follow such guidelines less than another month (4%) or not at all (9%).
There are big partisan differences, with an overwhelming majority of Democrats (87%) and just half of Republicans (50%) saying they can follow these guidelines at least six months or until a vaccine is widely available. One in five (20%) Republicans say they can't follow the guidelines at all.
The willingness to wear masks and follow social distancing comes as two thirds (68%) of the public worry that they or someone in their family will get sick from coronavirus. This marks the highest level of concern recorded since KFF began asking the question in February. As in the past, Democrats worry more about this risk than Republicans.
In addition, half (51%) of adults say that worry or stress related to the pandemic has had a negative impact of their mental health, similar to July (53%). This includes a quarter (25%) who say it has had a major impact. Women and young adults are more likely than men and older adults to report negative mental health impacts.
Fielded just before the Food and Drug Administration approved any COVID-19 vaccines, the poll finds half (51%) of the public say the "worst is yet to come" in the pandemic, up from a low of 38% in September. Democrats are more than twice as likely as Republicans to feel that way (72% v. 32%), with independents in the middle (50%).
"Republican denialism mirroring President Trump, even in the face of a growing epidemic in red states, has become a real public health challenge that the incoming administration will need to take on," KFF President and CEO Drew Altman said.
The poll also gauges the public's views on several proposals to negotiate drug prices and to expand access to affordable health coverage that President-elect Biden promoted during the 2020 campaign.
On drug prices, nearly 9 in 10 (89%) favor allowing the federal government to negotiate with drug companies to get a lower price for both Medicare and private insurance. This includes large shares of Republicans (84%) and independents (87%) as well as nearly all Democrats (97%).
On coverage expansions, large majorities support guaranteeing health insurance coverage to lower-income people in states that have not expanded their Medicaid program under the Affordable Care Act (76%); having a government-administered "public option" heath plan available to all Americans (71%); expanding government financial help for those who buy their own insurance on the ACA marketplace (66%); and lowering the age when people become eligible for Medicare from 65 to 60 (65%).
There is a wider partisan divide on the coverage proposals, with Democrats generally most supportive and Republicans least supportive – though about half of Republicans favor guaranteeing coverage to low-income people in states that have not expanded Medicaid (54%) and lowering Medicare's age of eligibility (51%).
A large majority (80%) – including majorities across parties – also favor protecting patients from surprise medical bills from out-of-network providers, which is the subject of bi-partisan legislation being worked on in Congress.
As part of his campaign, President-elect Biden focused on protecting and building upon the Affordable Care Act to expand access to affordable health coverage. Most of the public wants the incoming administration and Congress either to build on the ACA (48%) or keep it as is (14%). Fewer want to scale it back (9%) or repeal it entirely (20%).
As with the ACA overall, there are large partisan divisions, with most Democrats and independents wanting to build on what the law does or keep it as is, while most Republicans want to scale it back or repeal it entirely.
Designed and analyzed by public opinion researchers at KFF, the survey was conducted from Nov. 30-Dec. 8 among a nationally representative random digit dial telephone sample of 1,676 adults, including oversamples of adults who are Black (390) or Hispanic (298). Interviews were conducted in English and Spanish by landline (391) and cell phone (1,285). The margin of sampling error is plus or minus 3 percentage points for the full sample. For results based on subgroups, the margin of sampling error may be higher