As the federal government prepares to launch the national three-digit number "988" for the mental health crisis hotline next month, a new KFF analysis shows that suicide death rates increased by 12 percent in the decade from 2010 to 2020 — with death rates rising fastest among people of color, younger individuals, and people who live in rural areas.
The number of suicide deaths peaked at 48,344 in 2018 and then decreased slightly in 2019 and 2020, although some research suggests that some suicides may be misclassified as drug overdose deaths. Between 2019 and 2020, drug overdose deaths increased by 31 percent.
Suicide deaths by firearms accounted for more than half of the 45,979 suicides in 2020, the most complete data available, according to the analysis. Looked at another way, suicide deaths accounted for more than half (54%) of all deaths involving a firearm in 2020.
Among people of color, the highest increase in suicide death rates was among Black people (43% increase), followed by American Indian or Alaska Natives (41%), and Hispanic people (27%). As of 2020, American Indian and Alaska Native people had the highest suicide death rate, at 23.9 per 100,000 people – substantially higher than the rate for White people (16.8 per 100,000 people). Suicide death rates for Black, Hispanic, and Asian and Pacific Islander people were all less than half the rate for White people.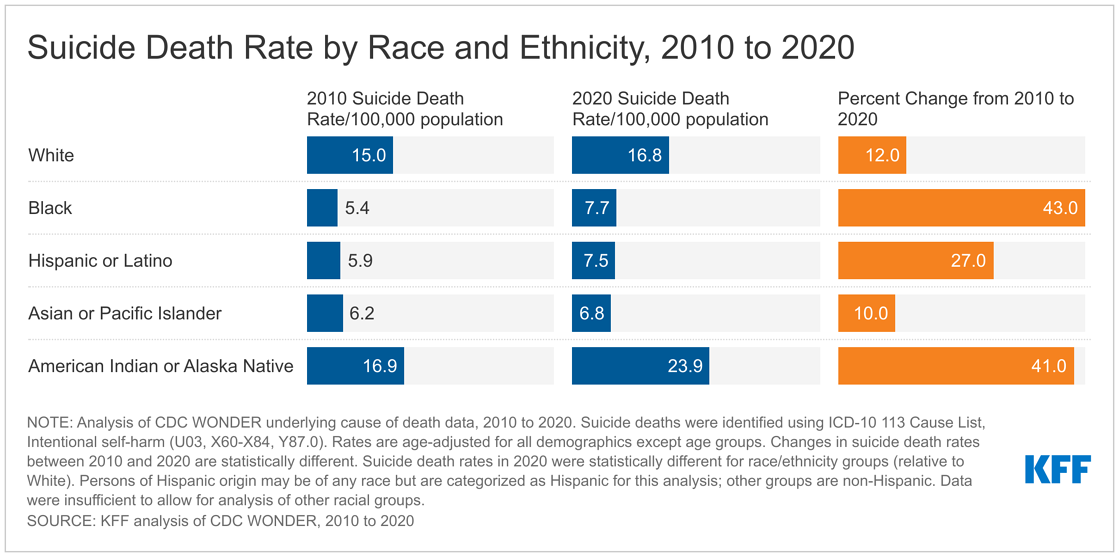 Suicide death rates also increased significantly in rural areas, rising 23 percent over the decade — possibly due to acute shortages of mental health workers in these areas. Among adolescents age 12 to 17 the suicide death rate increased 62 percent, and among young adults ages 18 to 23 the increase was 33 percent.
Suicide death rates varied substantially by state in 2020, ranging from 5.5 per 100,000 population in Washington, D.C. to a high of 30.5 per 100,000 people in Wyoming.
Against that backdrop of need, the federally mandated crisis number "988" will be available to all landline and cell phone users beginning July 16. Callers who are suicidal or experiencing a mental health crisis will be routed to the National Suicide Prevention Lifeline and connected to a crisis counselor.
For the full analysis, as well as other KFF data and analyses related to mental health, visit kff.org.