A new KFF analysis finds that the list prices for most of the top Medicare Part D drugs by total spending increased as much as nine times the rate of inflation (1.7%) between 2016 and 2017, suggesting recent Congressional proposals targeting such increases could generate savings for Medicare and Part D enrollees.
The analysis finds 20 of the top 25 drugs, all of which were brand-name medications, had price increases between three and more than nine times the inflation rate during that year. In some cases, price increases were in the double digits, far outstripping the inflation rate. These include 15.7% for Lyrica, a pain medication used by 900,000 Part D enrollees; 15.3% for Revlimid, a cancer drug used by 37,000 enrollees; and 13.2% for Humira Pen, a medication for rheumatoid arthritis taken by 52,000 enrollees.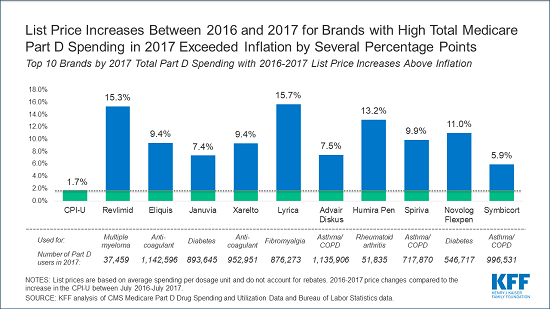 The analysis is based on data from the CMS's most recent Medicare Part D drug spending dashboard. Of the 2,879 drugs reported in 2017 in the dashboard (both brand-name and generic), 60 percent had list prices that increased faster than inflation between 2016 and 2017.
The analysis suggests the potential for savings to the Medicare program if drug manufacturers limited price increases to the rate of inflation or paid a rebate to the federal government. Medicare beneficiaries could also benefit because Part D cost sharing often comes in the form of coinsurance, which is calculated as a percentage of the list price. If the policy led to slower growth in Part D program costs, enrollees could also see lower premiums.
KFF did not analyze any specific provision in current legislation that would require drug manufacturers to pay a rebate to the federal government if their drug prices increase above the rate of inflation. Savings would depend on the details of legislative proposals, as well as on the response of drug manufacturers, such as increasing launch prices for drugs or decreasing existing rebates. The analysis is based on pricing data that does not reflect existing manufacturer rebates or discounts to plans, which are considered proprietary and not publicly available.