With the Medicare open enrollment period set to begin October 15, a new KFF analysis finds that 7 in 10 beneficiaries (71%) say that they didn't compare their coverage options during a recent open enrollment season. Twenty-nine percent said they did compare Medicare plans.
But not shopping around can have a big impact on enrollees' coverage and costs. The Centers for Medicare & Medicaid Services (CMS) recommends that beneficiaries review and compare Medicare plans each year.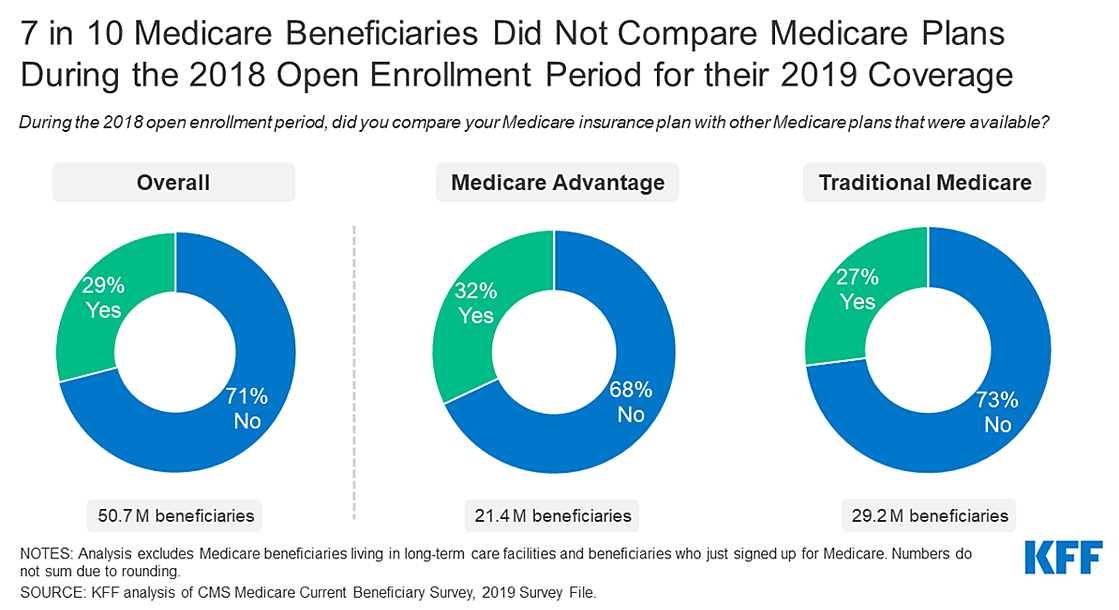 The new analysis examines the share of Medicare beneficiaries who compared plans during the 2018 open enrollment period for coverage in 2019, the share who compared drug coverage in Medicare Advantage and stand-alone drug plans, and variation by demographic characteristics, based on an analysis of the 2019 Medicare Current Beneficiary Survey (the most recent year available).
Other key findings include:

• The share of beneficiaries who said they did not compare their options was higher among beneficiaries who are Black (74%) and Hispanic (79%), ages 85 and older (84%), with low incomes (85%), and those enrolled in both Medicare and Medicaid (87%).
• When it comes to Part D drug coverage, 81 percent of Medicare Advantage drug plan enrollees and 72 percent of Medicare stand-alone drug plan enrollees said they did not compare drug coverage offered by their current plan to other plans.
• Nearly half (47%) of all beneficiaries with Medicare said they had never visited the official Medicare website for information, 53 percent reported they had never called the 1-800-MEDICARE helpline and 31 percent said they did not read the Medicare & You handbook.
Medicare beneficiaries with traditional Medicare can compare and switch Medicare Part D stand-alone prescription drug plans or join a Medicare Advantage plan, the privately run alternative to traditional Medicare. At the same time, enrollees in Medicare Advantage can compare and switch Medicare Advantage plans or elect coverage under traditional Medicare with or without a stand-alone drug plan.
Coverage and costs vary widely among both Medicare Advantage plans and Part D prescription drug plans. Plans can change from one year to the next, as can beneficiaries' health care needs, which could lead to unexpected and avoidable costs, and disruptions in care for beneficiaries who stay put and do not at least review their options annually.
For other Medicare-related data and analyses, including our Medicare Open Enrollment FAQs and our updated Overview of the Medicare Part D Prescription Drug Benefit, visit kff.org. The Medicare open enrollment period runs through December 7.