Teen Pregnancy: Key Statistics
The Henry J. Kaiser Family Foundation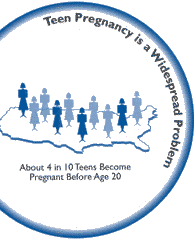 How widespread is teen pregnancy in the U.S.?
More than four in 10 young women become pregnant at least once before they reach the age of 20 – nearly one million a year.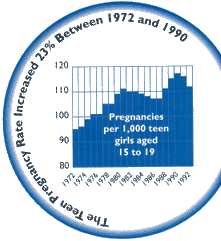 Are more teens getting pregnant today than two or three decades ago?
The pregnancy rate among all teen girls aged 15-19 rose 23 percent between 1972 and 1990, and then fell slightly in 1992. This increase occurred because of a rise in the proportion of teenagers who have had sexual intercourse. During the same time, the pregnancy rate among sexually experienced teen girls decreased 19 percent, largely due to the fact that many more teens use contraception today than did in the past. Most (71%) sexually active teens use contraception.
Are most teen pregnancies planned?
No. The overwhelming majority-78 percent-of pregnancies to 15-19 year old teen girls are not planned. Among younger teens, 15-17 year olds, 83 percent of pregnancies are unplanned.
Back Next
"The More You Know About Teen Pregnancy Prevention"
Press Release Teen Pregnancy Key Statistics