Page Two
Employee Contributions
Almost 80% of covered workers with single coverage, and over 90% of covered workers with family coverage make a contribution toward premiums in 2004 (Exhibit C). Workers on average contribute $558 of the $3,695 annual cost of single coverage and $2,661 of the $9,950 annual cost of family coverage toward premiums (Exhibit B).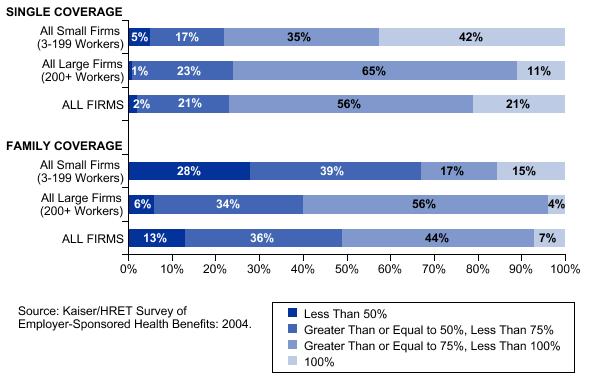 Click on Thumbnail for larger image (opens in a new window)

Click on Thumbnail for larger image (opens in a new window)
The percentage of premiums paid by workers is statistically unchanged over the last several years, at 16% for single coverage and 28% for family coverage (Exhibit D). All small (3-199 workers) and all large (200 or more workers) firms contribute about the same amount toward single coverage, but all large firms contribute significantly more than all small firms towards family coverage.This year we asked employers about benefit practices that might discourage employees from enrolling in health benefit plans. Of firms offering health benefits, 17% provide additional compensation or benefits to employees who decline the offer of health coverage altogether. Twelve percent of employers offering coverage vary the amount that an employee must pay for family coverage depending on whether the employee's family member has access to coverage from another source, and three percent of employers provide additional compensation or benefits to employees that elect single rather than family coverage (Exhibit E). Few employers say that they are likely to adopt any of these practices in the near future, but 41% of employers offering health benefits say that they are "very likely" or "somewhat likely" to increase the percentage of the family premium that employees must pay in the next two years.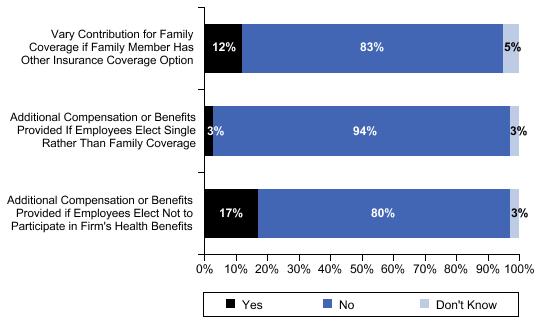 Click on Thumbnail for larger image (opens in a new window)
Employee Cost Sharing
In addition to their premium contributions, most workers make additional payments when they use health care services. Cost sharing rose only modestly in 2004, compared to the larger increases observed in recent years. Fifty-one percent of workers are in a health plan that requires that a deductible be met before most plan benefits are provided. The average single coverage deductible for PPO plans is $287 for services from preferred providers and $558 for services from nonpreferred providers. Both are statistically unchanged from 2003 (Exhibit F). PPO deductibles in all small firms (3-199 workers) are substantially higher than PPO deductibles in larger firms, with single coverage deductibles of $420 for preferred provider services and $676 for nonpreferred-provider services.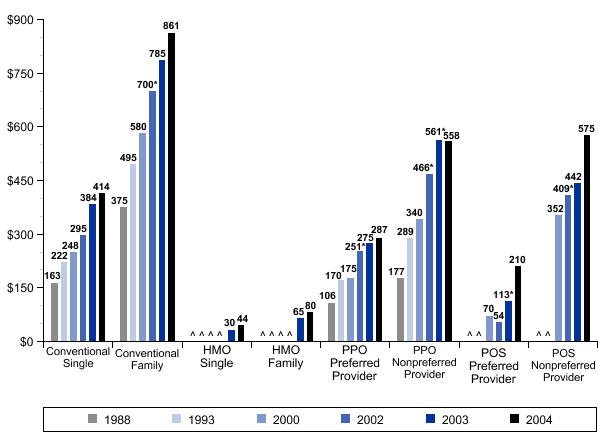 Click on Thumbnail for larger image (opens in a new window)
More than half of covered workers face separate cost sharing when they are admitted to a hospital. Thirty percent of covered workers face a separate deductible or copayment when they are hospitalized, with an average payment of $224. Thirteen percent of workers face separate coinsurance when they are hospitalized, with an average coinsurance rate of 16%. An additional five percent of workers face both a deductible or copayment and coinsurance when hospitalized.
The vast majority of covered workers face copayments when they go to the doctor or fill a prescription. Copayments for physician office visits rose modestly in 2004, with the percentage of covered workers in plans with a $20 copayment for office visits increasing from 19% in 2003 to 27% this year. The average drug copayments for generic ($10), preferred ($21), and nonpreferred ($33) drugs increased slightly over the last year.