MarketFacts: A Financial Overview of the Managed Care Industry
A Financial Overview of the Managed Care Industry
March 1999
Part 2
Recent HMO Activity
After 6 years of steady growth, HMO profits declined in 1994, 1995, and 1996; in 1997, nearly 60 percent of HMOs lost money (Weiss Ratings). Although HMO net income plunged from 1994 through 1997, HMO enroll-ments were up 72% and total revenues rose 77% over that period (Best's Aggregates & Averages HMO, 1998). At the same time, health services companies have grown increasingly profitable throughout the 1990s.
While underlying health care costs have continued to grow especially for prescription drugs plans competing for market share have until recently sought to hold premium levels down. HMO premium increases moderated through-out the early 1990s, and the rates charged to large employersactually declined by 0.4% in 1996. Since then, premiums charged to large firms have increased 2.0% in 1997 and 2.9% in 1998 (KPMG Peat Marwick). Most analysts now expect premiums to escalate, with one study predict-ing increases of 6-9% in 1999 (Hewitt Associates).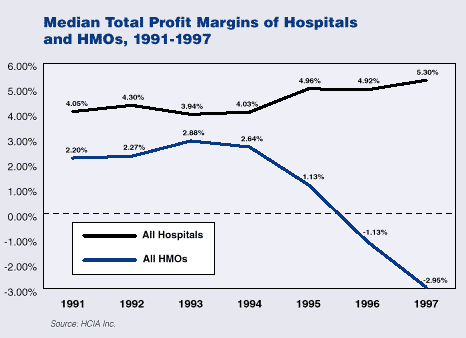 In part due to recent premium increases, some plans including PacifiCare, Wellpoint, and United HealthCare are now reporting positive balance sheets. However, other plans are continuing to report significant losses. For example, Kaiser Permanente, one of the nation's largest andmost visible HMOs, lost $288 million in 1998 (or 2.8 percent of operating revenues), on top of a loss of $266 million in 1997 (3.2 percent of operating revenues). Kaiser attributes 1998 losses to increases in the cost of care from pharmacy and hospital services, and the use of non-Kaiser Permanente health facilities.
Responding in large part to financial pressures and to pay-ment reforms in the Balanced Budget Act of 1997, plans have pulled back from some markets, especially in theMedicare program. For 1999, nearly 100 HMOs either reduced their service areas or terminated their contracts with Medicare, affecting more than 400,000 beneficiaries (nearly 7% of Medicare HMO enrollees). The reasons cited by HMOs for the withdrawals were the inadequacyof Medicare s payment rates and the regulatory burden of participating in Medicare, including increased require-ments for consumer protections.
Mergers and acquisitions have beenanother feature of HMO activity in recent years. The proportion ofHMO enrollees in the 10 largest national managed care firms oneindicator of market concentration has grown rapidly recently afterremaining steady at about 55% for a number of years,rising to 67% in January 1998 (InterStudy). Major mergers in theindustry include Aetna's purchase of U.S. Healthcare in 1996 andCIGNA's acquisition of Healthsource in 1997. More recently, Aetnaannounced that it will buy Prudential for $1 billion. This deal has beencriticized by such organizations as the American Medical Association and is under review by fed-eraland state regulatory agencies. Mergers may put a strain on an HMO s financial results, in part because of the difficulties of integrating the businesses acquired. Concerns have also been raised about the resulting domi-nation of a small number of HMOs in certain geographic markets, the impact on providers ability to negotiate pay-ment rates and resulting impact on treat-ment time and options, and patient fears that provider networks will be disrupted. At the same time, mergers can lower coststhrough economies of scale and increased purchasing leverage by plans.
Issues
Do recent stock price declines signal a shift in prospects for the managed care industry?Many investors were drawn to managed care companies asgrowth stocks that would achieve success by meeting therapidly growing demand for lower-cost managed care prod-ucts,as well as the potential to increase efficiency. Now,over three-quarters of those with employment-based healthinsurance are enrolled in some type of managed care plan,so potential further growth in that segment of the market islimited. Overall, enrollment growth has been especially visi-blein open-access products, but there are uncertaintiesregarding the ability of these plans to control costs.
How will rising premiums affect insurance coverage?While premium increases may help to restore the finan-cial health of HMOs, such increasesalso impact the cost of health carefor employers and enrollees. Smallbusinesses (who are least likely tooffer coverage) and lower incomeindividuals (who are most likely tobe uninsured) are particularly vul-nerableto cost increases. The num-berof uninsured has continued inrecent years to rise by more than onemillion a year, even in a period ofunprecedented economic prosperityand moderate growth in healthinsurance premiums. Rising premi-umscan only increase the already large number of peopleuninsured.
Would the passage of consumer protection legislationaffect the financial viability of HMOs? Consumerprotection legislation has been introduced in Congressand in many states. What would be the impact of provi-sionssuch as mandating external reviewprograms, prudent layperson paymentrequirements for emergency care, andhealth plan liability? Some estimatessuggest that the cost of these and otherprovisions could be large,but independent analyses by theCongressional Budget Office andCoopers & Lybrand (prepared for theKaiser Family Foundation) point to amore modest cost impact.
What is the future of HMOs in Medicare? Despite planwithdrawals for 1999, HMOs are expected to cover anincreasing proportion of beneficiaries. With future pres-sureto lower federal payments to plans, will HMOs con-tinueto find this market attractive and provide expandedbenefits such as prescription drugs?
How do market pressures affect quality of care? It is notclear whether profit status matters in the quality of care thatis delivered, or whether, in the near future, we will havereliable measures to judge quality across not-for-profit andfor-profit organizations. Market incentives have been bothcredited for eliminating unnecessary care and blamed forforcing providers to skimp on quality and quantity of care.
The Kaiser Family Foundation, based in Menlo Park, California, is a nonprofit, independent national health care philanthropy and is not associated with Kaiser Permanente or Kaiser Industries.
For more information,visit the Foundation sweb site at www.kff.orgor call the publicationrequest line at(800) 656-4533.
This Fact Sheet is also available in PDF format. Return to top
A Financial Overview of the Managed Care Industry
Fact Sheet Part 1 Fact Sheet Part 2