As Open Enrollment Closes, Millions of Uninsured Americans are Still Eligible for Free ACA Health Insurance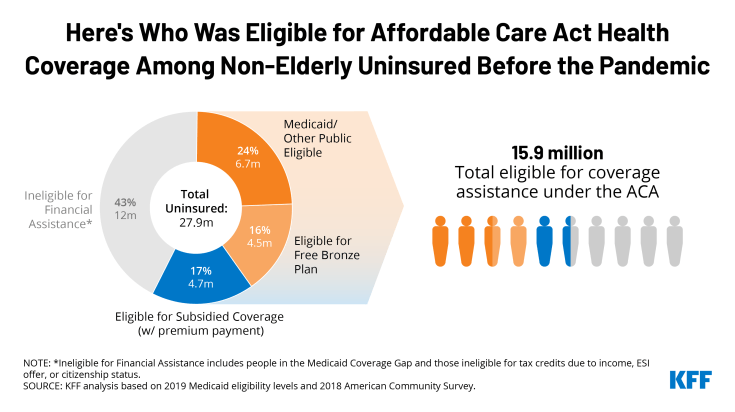 Recent KFF analysis suggests that the overall uninsured rate may not have changed that substantially during the pandemic. On one hand, this is good news since early estimates predicted a drastic increase in the uninsured rate given the scale of employment losses. On the other hand, if the uninsured rate has indeed held steady, it would mean there are still tens of millions of people without health coverage during the pandemic. Many of these uninsured people are eligible for financial assistance under the Affordable Care Act (ACA), but they may have just hours left to sign up for coverage before the ACA Open Enrollment window closes at midnight December 15.
As the chart below shows, most of the uninsured in a typical year are eligible for financial help to buy coverage, and of those, most are eligible for a free or nearly free plan. Before the pandemic, about one in four uninsured people were eligible for Medicaid and another third were eligible for financial assistance on the Marketplaces, meaning, in total, 57% of the uninsured could get financial help to access coverage. In fact, most of those eligible for help can get free (or nearly free) insurance coverage. The 24% of uninsured people who are eligible for Medicaid (6.7 million people) generally would pay no premium to sign up, and another 16% of the uninsured (4.5 million people) are eligible for a Bronze plan with a $0 premium.
More than a month into the current Marketplace Open Enrollment period for 2021, signups in federal exchange states appear strong, but the vast majority of signups are from returning enrollees. We still are not seeing a surge of signups from new enrollees relative to past years, but many people who are uninsured may be surprised at what they find if they look at their options.
The federal Open Enrollment period runs through midnight December 15, but it extends into January in most states that operate their own health insurance exchanges. There is no deadline to sign up for Medicaid. If you have questions about signing up for coverage, please see our FAQ page.
Source