A
KFF survey
of Asian patients at four community health centers serving a predominantly Asian, low-income population finds a third (33%) of them have felt more discrimination based on their race/ethnicity since the COVID-19 pandemic began. Respondents, 80% of whom were born outside the U.S., reported a range of negative experiences including receiving poorer service in public settings, being denied employment and/or housing, and being verbally or physically attacked.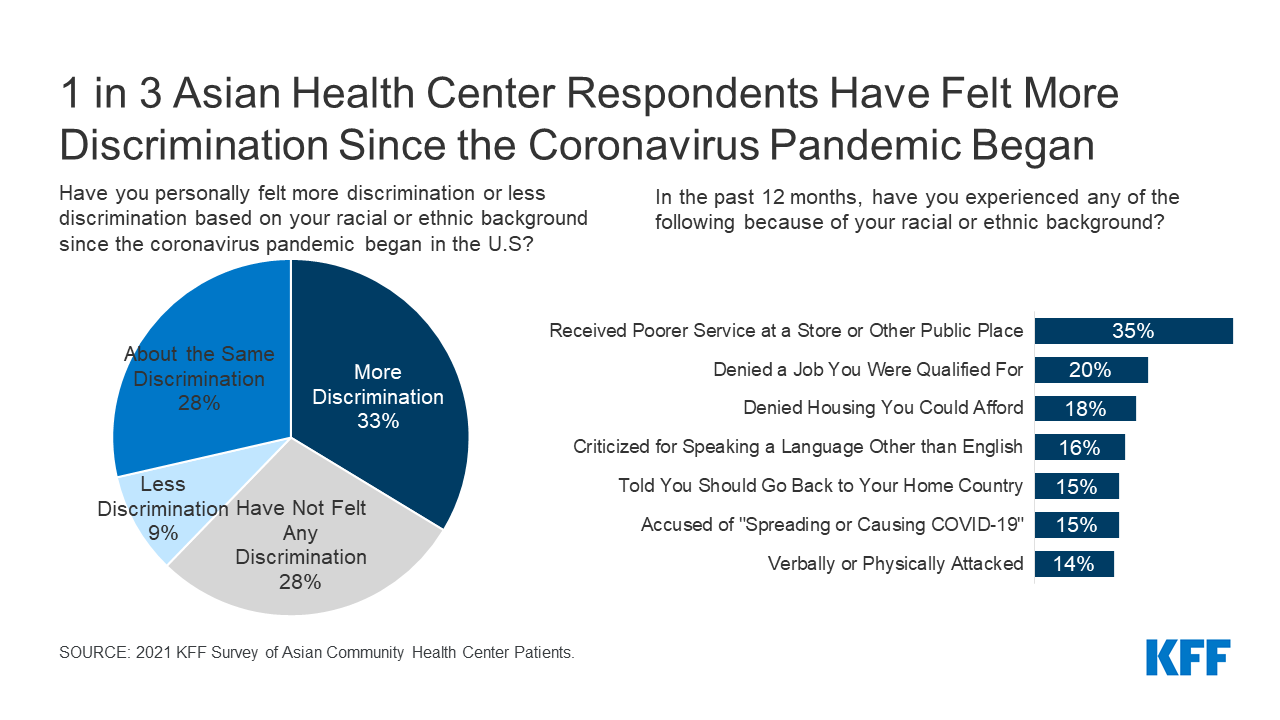 Asian Immigrant Experiences with Racism, Immigration-related Fears, and the COVID-19 Pandemic was released today at a briefing discussing the diversity of the Asian American population and how the pandemic and rising anti-Asian hate crimes have exacerbated existing challenges in health care access, especially mental health. Innovative care models and the impact of immigration policy were also topics. Congresswoman Judy Chu provided opening remarks which was followed by highlights from the survey and a panel discussion with the representatives from the Association of Asian Pacific Community Health Organizations and community health centers serving the Asian American community.
Over half (54%) of the 1,086 Asian health center respondents, a convenience sample drawn from locations in California, Texas, and Washington, say they don't have enough information about recent immigration policy changes to understand how they impact their family. Four in ten report worrying some or a lot about they or a family member being detained or deported and a quarter say they or a member of their household stopped participating in or didn't apply for government assistance with health care, housing or food in the past year due to immigration-related fears, despite many facing increased needs due to the pandemic.
Almost six in ten (58%) Asian health center respondents say they have worried at some point about being exposed to coronavirus, and over half say someone in their household lost a job or income since the pandemic began. The fear of exposure to coronavirus was one of several factors cited for the 30% of respondents who said they put off or went without health care in the past year.
The complete findings and methodology of the survey fielded from February to April of 2021 are available on kff.org.