For some regions of the country, recent months have brought the worst COVID-19 outbreaks in long-term care facilities since the start of the pandemic, a new KFF analysis of state-reported cases and death shows, underscoring the importance of current efforts to vaccinate this high priority group.
The novel coronavirus has had a disproportionate impact on older adults in general and nursing home and other long-term care facility residents and staff in particular. Six percent of all COVID-19 cases nationally and 38 percent of deaths from the virus have been associated with long-term care settings.
The new analysis finds that many states reported their highest average weekly number of new coronavirus cases in long-term care facilities in November or December 2020, mirroring the nationwide surge in cases in fall and early winter.
Deaths in such facilities nationally also were rising late in the year, but were still below the peaks seen in April, when the novel coronavirus first swept through nursing homes in the Northeast. Overall COVID-19 cases and deaths are still rising nationally, which means they likely are in long-term care facilities as well. The authors note that it is likely that many states will hit peak new cases and deaths in long-term care facilities in the early months of 2021, surpassing 2020 levels.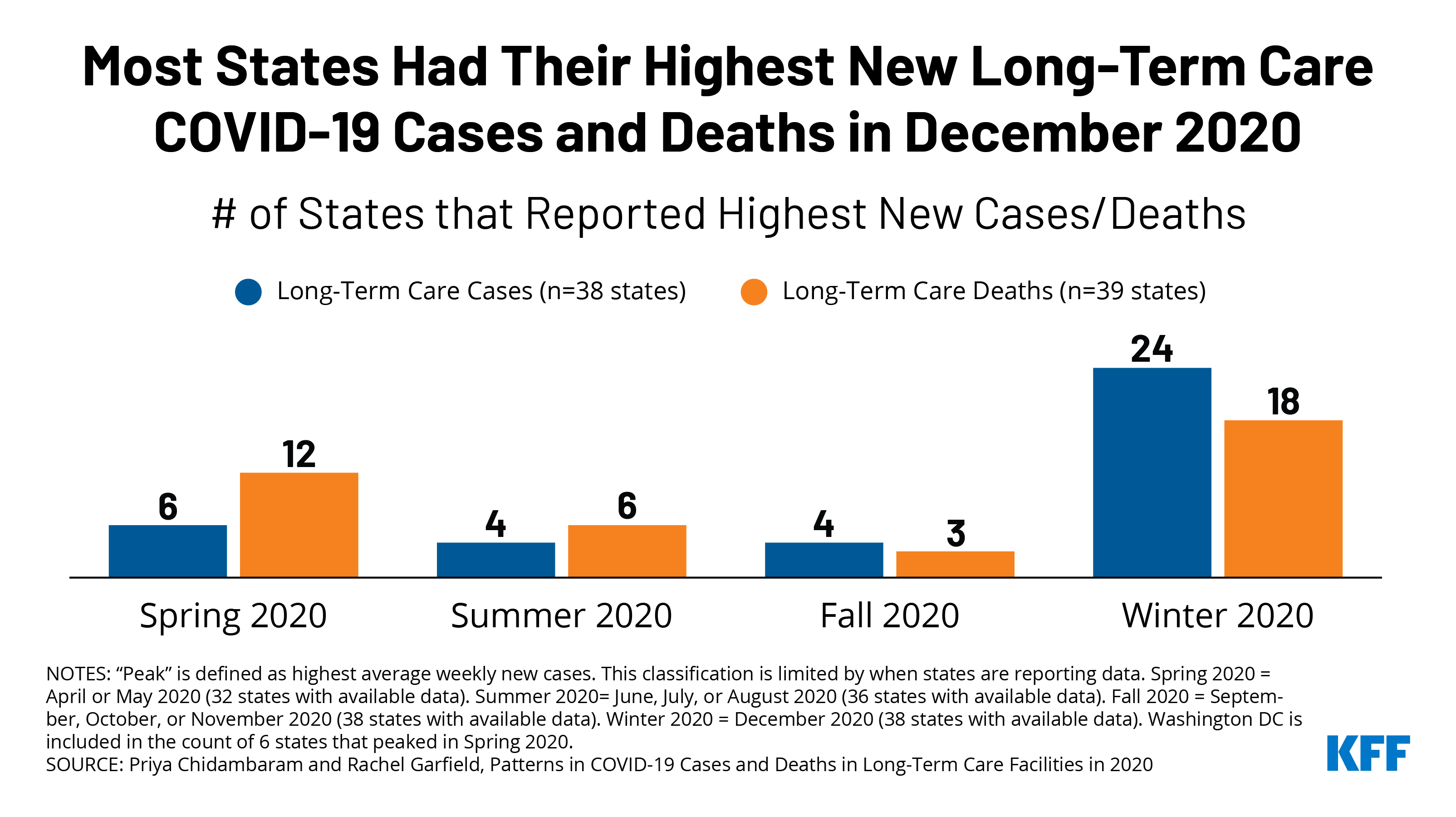 A second new KFF analysis synthesizes the findings of 30 studies that examined potential factors associated with COVID-19 cases and deaths in long-term care facilities. It finds that community transmission was consistently associated with cases and deaths. It also finds that certain facility characteristics are associated with COVID-19 cases and deaths, including having a relatively large share of Black or Hispanic residents, for-profit status, having a relatively large number of beds, and being located in urban areas. Further, there is some evidence that nursing homes with higher staffing levels, including higher 5-star quality ratings for staffing from the Centers for Medicare and Medicaid Services, have a lower likelihood of cases or deaths.
In other areas the evidence is less clear, such as whether patient transfers from hospitals or other settings contribute to the spread of the virus, and the relationship between overall nursing home quality ratings and COVID-19 cases and deaths. The review also identified gaps in the literature, including lack of research evaluating whether shortages of personal protective equipment, testing and staff were associated with COVID-19 cases or deaths, or whether practices such as setting up separate COVID-19 facilities or policies restricting nursing home visitors directly affected the spread of infection in long-term care facilities.
KFF released the new analyses in advance of a public briefing that examines the status of COVID-19 vaccination efforts in long-term care facilities, including challenges so far and opportunities for improvement.
For more data and analyses about the pandemic and long-term care, visit kff.org