Visualizing Health Policy: Preventive Services for Women and the Affordable Care Act
This month's Visualizing Health Policy infographic takes a look at preventive health services for women, including missed opportunities for preventive counseling on risk factors (such as smoking or alcohol) and sexual health issues (such as contraception, sexually transmitted infections, and domestic violence), the effects of lack of insurance on rates of mammograms and other screening tests for women, and how costs are a barrier that cause some women to postpone preventive services or skip a recommended test or treatment. It also reveals that a substantial proportion of women are unaware that the Affordable Care Act (ACA) requires private plans to cover many preventive services without cost sharing, and that many women regard clinicians as the most trusted source for information on the ACA.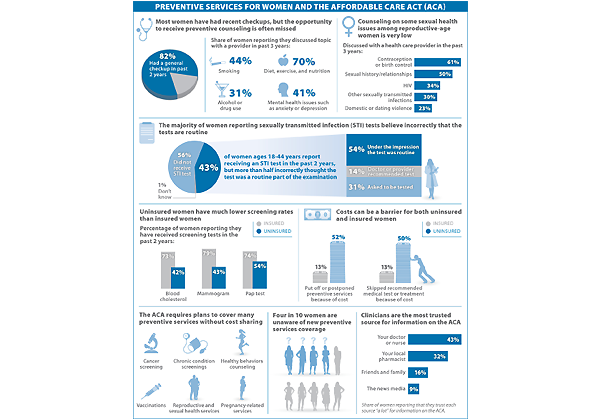 Visualizing Health Policy is a monthly infographic series produced in partnership with the Journal of the American Medical Association (JAMA). The full-size infographic is freely available on JAMA's website and is published in the print edition of the journal.