Report Examines How State and National Policies Affect Access to Reproductive Health Care for Low-Income Women in Five Communities
As policy debates over the future of access to reproductive and sexual health services heat up at the national and state levels, a new KFF report examines how these policies have played out in five communities across the United States.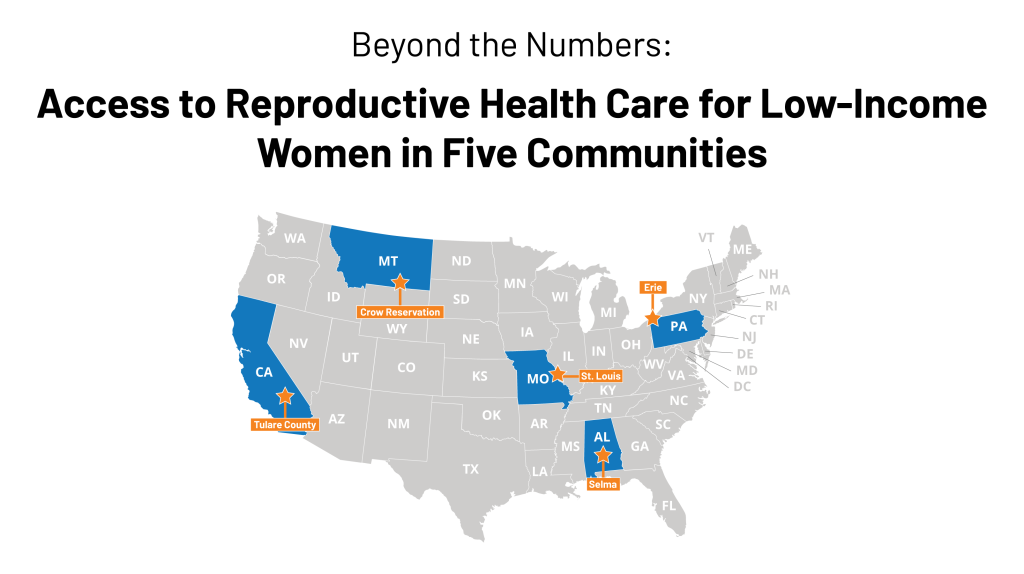 Earlier this year KFF, working with Health Management Associates, conducted interviews with local clinicians, social service providers, community-based organizations, researchers, and health care advocates as well as a focus group with low-income women in five different communities: Selma and Dallas County, AL; Tulare County, CA; St. Louis, MO; Crow Tribal Reservation, MT; and Erie County, PA. Based on the interviews and the focus groups, the study identifies themes that cut across all five "medically underserved" communities, but play out in different ways depending on the policy, political, and social environments in each place:
Cultural and Social Determinants of Health: In each of the communities, poverty, cultural factors, and social determinants were identified as having a considerable impact on women's ability to prioritize, afford, and get to family planning or abortion services. In addition, the residual effects of historical abuses by the medical establishment result in persistent mistrust of providers in some communities.
Coverage: Interviewees identified lack of coverage options for basic health care services as a prominent challenge in states that did not adopt the ACA's Medicaid expansion. They also identified ways to strengthen Medicaid to improve services available to enrollees, such as elimination of pre-authorization for certain contraceptive methods, increasing provider participation in the program, and improving systems to connect uninsured women to Medicaid-funded family planning programs.
Provider Supply and Distribution: There are provider shortages in many communities, especially in large, rural areas. Interviewees said that challenges with recruitment and retention of clinical staff create access barriers for women. Many interviewees identified gaps in consistent language translation services, the need for cultural concordance, and a shortage of female clinicians.
Sex Education: The importance of comprehensive sex and STI education was raised across communities. A lack of information was said to leave many girls and women uninformed or misinformed about their reproductive health care, contraceptive options, and how to access services.
Abortion Environment: Abortion was difficult to access in all of the communities. Stigma, anti-abortion beliefs, and policy restrictions at the state and/or community level shape the availability of legal abortion services and women's ability to access them.  
In addition to an executive summary report, KFF has also published case study briefs that detail the findings in each of the five communities. A briefing will be held today featuring a panel discussion with health leaders from each of the communities. A recording of the briefing will be posted on kff.org.