Following the Supreme Court's ruling overturning Roe v. Wade, uncertainty has emerged over whether the right to contraception could also be limited. Justice Thomas' concurring opinion in Dobbs renewed attention and raised the possibility that other Supreme Court precedents relying on the same principles as Roe, such as the right of people to obtain contraceptives, could also be overturned. In response, legislative bodies at the state and federal level have debated, and in some cases enacted, protections for contraception.
A new KFF analysis finds that across the United States, 13 states—California, Colorado, Florida, Illinois, Massachusetts, Michigan, Minnesota, New Jersey, New Mexico, Oregon, Rhode Island, Vermont, and Washington—and the District of Columbia have specific legal or constitutional protections for the right to contraception. In addition, two states (Nevada and Maryland) have started the process of adding a constitutional amendment.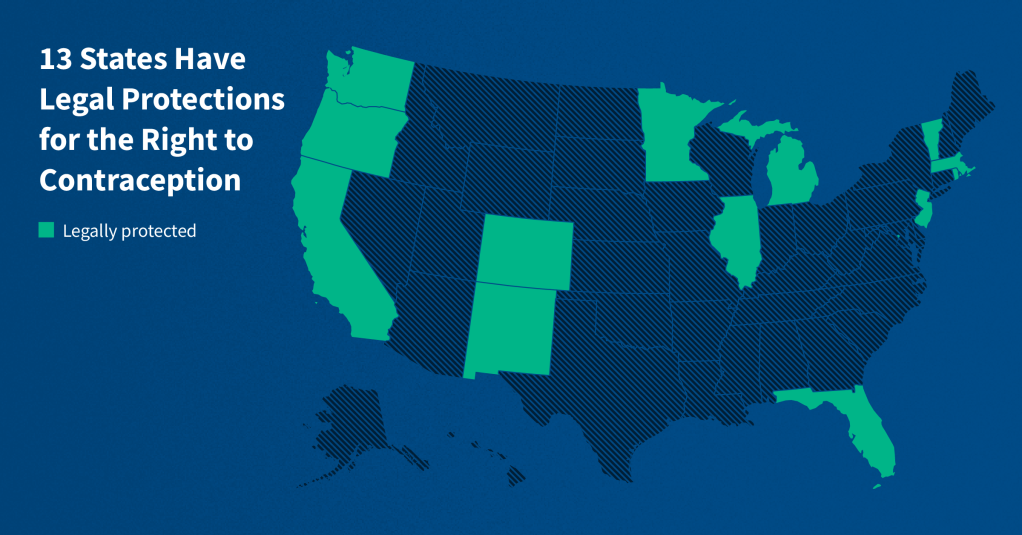 Except for Florida, none of the states that ban or severely restrict access to abortion have state level policies on the books protecting the right to obtain contraceptives, leaving access to some methods vulnerable to future attempts to limit them.
Fundamental misunderstandings about how contraceptives work—particularly intrauterine devices (IUDs) and emergency contraceptive pills—increase the likelihood that legislators and regulatory agencies might conflate abortion and contraception, and potentially restrict people's ability to access these methods in some states. A February KFF poll indicates that 73% of people incorrectly think emergency contraceptive pills can end a pregnancy in its early stages when they cannot. Additionally, studies suggest some people wrongly believe that IUDs work primarily by preventing implantation of a fertilized egg in the uterine lining.
Leading medical organizations define pregnancy to begin at the implantation of a fertilized egg. Some state abortion bans, however, define pregnancy to begin at the moment of fertilization and define embryonic cells as people. These definitions, coupled with the misinformation that certain contraceptives can end a pregnancy, have been interpreted, in some circumstances, to restrict access to or payment for those methods.
Read the brief, "The Right to Contraception: State and Federal Actions, Misinformation, and the Courts," which explains how misinformation about contraceptives and how pregnancy is defined in state abortion bans may impact contraceptive access and outlines the legal protections some states have established to affirm the right to obtain contraceptives.