Mental health and substance use disorders are key public health issues and have received increased national attention in recent years. In light of the COVID-19 pandemic, a growing share of people report poor mental health and deaths due to drug overdose have reached record highs. Alongside these worsening issues, challenges with accessing mental health and substance use services have persisted. Poor mental health and barriers to care can vary geographically and by population characteristics. This page highlights relevant findings on the mental health landscape, including state-level data and analyses at the demographic level.
Featured Mental Health Resources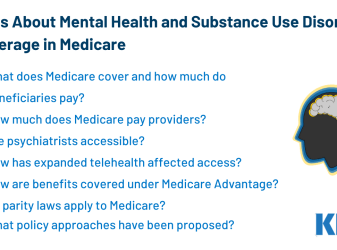 These FAQs review mental health and substance use disorder coverage and out-of-pocket costs in Medicare and discuss policy proposals related to coverage of mental health and substance use disorder treatments.
Issue Brief
See More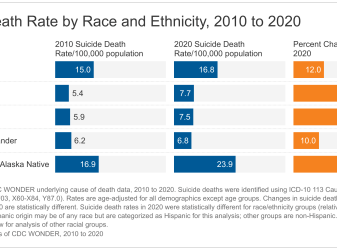 As the federal government prepares to launch the national three-digit number "988" for the mental health crisis hotline in July 2022, this analysis shows that suicide death rates increased by 12 percent in the decade from 2010 to 2020 — with death rates rising the fastest among people of color, younger individuals, and people who live in rural areas. Suicide death rates in 2020 were highest among American Indian and Alaska Native people, males, and people who live in rural areas
Issue Brief
See More
---