Seventy-nine percent of noncitizen residents who originally entered the United States without legal permanent resident status have at least one characteristic that could count against them under the Trump Administration's new "public charge" rule, according to an updated KFF analysis.
Such characteristics – including having an income below 125 percent of the federal poverty level or lacking a high school diploma or private health insurance — could make it harder for immigrants to obtain admission into the U.S. or get a green card under the administration's final rule to change "public charge" inadmissibility policies scheduled to take effect on October 15. Under the changes, federal officials will deny entry or green cards to people who they determine are likely to rely on public programs such as Medicaid and certain housing and nutrition programs that were previously excluded from this "public charge" test. Many noncitizen residents have characteristics that would be considered positive under the rule as well, though immigration officials would have substantial discretion in assessing factors and applying the rule.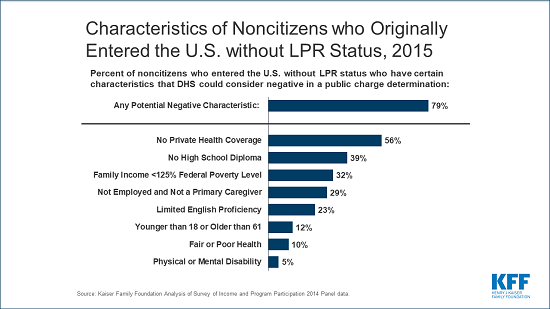 The new rule also will likely lead to decreased enrollment in Medicaid and other public programs among immigrant families beyond those directly affected by the rule due to fear and confusion about the changes. An estimated 13.5 million Medicaid or CHIP enrollees are citizens or noncitizens living in a household with a noncitizen. If the rule were to lead to disenrollment rates ranging from 15 percent to 35 percent among these enrollees – based on prior experience with welfare reform — then between 2 million and 4.7 million individuals could drop out of such programs, the analysis finds. Decreased participation in Medicaid would increase the uninsured rate among immigrant families and could decrease revenues and increase uncompensated care for providers.