While most Americans believe that antibiotic resistance poses a public health problem, new KFF polling finds nearly half (45%) say they personally have not taken antibiotics as prescribed – one factor contributing to the rise of "superbugs" that are resistant to existing treatment.
Those misusing antibiotics includes people who say they took antibiotics without talking to a doctor or other provider (16%) and, more commonly, those who say that they did not finish a course of antibiotics (39%).
The new polling examines the public's experiences and knowledge about antibiotic resistance, which occurs when bacteria and other germs change so that the antibiotic medicines designed to kill them no longer work.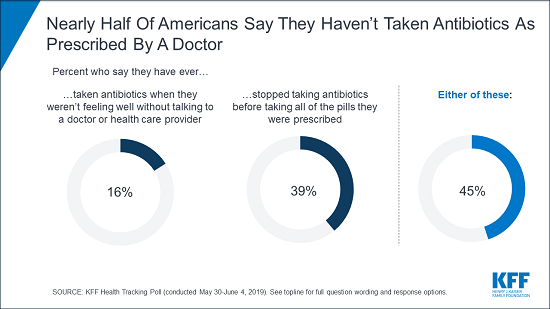 Most Americans say that they have heard the various terms used to talk about the issue of the overuse of antibiotics including antibiotic resistance and superbugs, and they know what these terms mean.
Other findings include:
Most correctly say that antibiotics can usually cure bacterial infections (75%), though fewer correctly say that they can't cure viral infections (45%). Knowledge about which illnesses can usually be cured by taking antibiotics varies based on gender, age, income, and education.
The public are similarly worried about antibiotic resistance and outbreaks of preventable diseases like measles and whooping cough affecting the country and their own families, but larger shares say they are "very worried" about the opioid epidemic's impact on the country.
Most know about potential consequences from the overuse of antibiotics, including longer-lasting and more dangerous bacterial infections (63%), higher costs to treat such infections (57%), and more life-threatening illnesses affecting infants and seniors (53%). For each consequence, however, at least a third answer incorrectly or don't know enough to say.
Most of the public says pharmaceutical companies (59%) and health care providers (56%) are "very responsible" for addressing the problem of antibiotic resistance. Fewer (30%) say patients are.
About a fourth (24%) say that a doctor or other provider prescribed an antibiotic for someone in their family that they didn't think was necessary. About one in five (19%) say someone in their family asked a provider for an antibiotic but the provider recommended against it.
Designed and analyzed by public opinion researchers at KFF, the poll was conducted May 30-June 4, 2019 among a nationally representative random digit dial telephone sample of 1,206 adults. Interviews were conducted in English and Spanish by landline (298) and cell phone (908). The margin of sampling error is plus or minus 3 percentage points for the full sample. For results based on subgroups, the margin of sampling error may be higher.