Poll Reveals a Deep Partisan Divide in Perceptions, with Republicans Much More Likely Than Democrats and Independents to View the Federal Government's Response Favorably
As President Trump threatens to scale back the federal response to help Puerto Rico recover from Hurricane Maria, most Americans say that Puerto Ricans affected by Hurricane Maria are not yet getting the help they need (62%), and about half say that the federal government has been too slow to respond (52%) and is not doing enough to restore basic services (52%), a new Kaiser Family Foundation survey finds.
The survey gauging the public's knowledge and views about Puerto Rico's recovery efforts following the devastating category 4 hurricane that struck Sept. 20 reveals a sharp partisan divide in perception: Republicans are much more likely than Democrats or independents to view the federal response as appropriate.
For example, while most Democrats (80%) and independents (61%) say that Puerto Ricans affected by the hurricane are not yet getting the help they need, most Republicans (56%) say that they are. Similarly, three quarters of Democrats (74%) and most independents (54%) say that the federal government is not doing enough to restore electricity and access to food and water in the U.S. territory, while three quarters of Republicans (74%) say that the federal government is doing enough.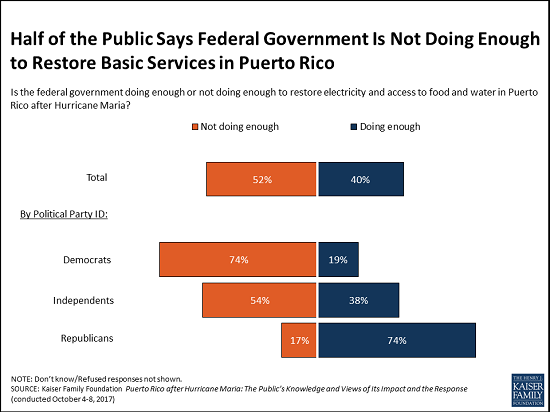 Half (52%) of the public say the federal response has been too slow, while four in 10 (41%) say it has been about right, and very few (3%) say it has been too fast. Partisans view the federal response very differently – with most Democrats (72%) saying it has been too slow and a similar majority of Republicans (75%) saying it has been about right.
Fielded after President Trump's Oct. 3 visit to Puerto Rico, the survey finds the public has been paying close attention to the hurricane's damage to Puerto Rico, with almost three quarters of the public (73%) saying that they have heard "a lot" about it.  An even larger share (88%) report knowing that the damage to the island was "very severe." Most Americans (76%) also correctly report that most of Puerto Rico's residents are U.S. citizens.
When asked who is most to blame for problems restoring basic services, more people cite a slow response by the federal government (44%) than disorganization in the local Puerto Rican government (32%) or lack of attention from the news media (10%). Most Democrats (64%) blame the federal government, while the same majority of Republicans (64%) blame local authorities.
A plurality of the public (44%) say  that President Trump and his administration have done less for Puerto Rico than they did in response to the hurricanes that hit Florida and Texas this year. Somewhat fewer (36%) say the responses have been about the same, and one in six (16%) say the response was greater for Puerto Rico. Most Democrats say the response in Puerto Rico has been less than in Florida and Texas (67%) and most Republicans feel it has been about the same (65%).
Designed and analyzed by public opinion researchers at the Kaiser Family Foundation, the poll was conducted from October 4 – 8, 2017 among a nationally representative random digit dial telephone sample of 1,008 adults. Interviews were conducted in English and Spanish by landline (306) and cell phone (702). The margin of sampling error is plus or minus 4 percentage points for the full sample. For results based on subgroups, the margin of sampling error may be higher.